Indian, Pakistani forces exchange sweets on Republic Day
Indian and Pakistani forces exchanged sweets at various locations on Indian Republic Day today.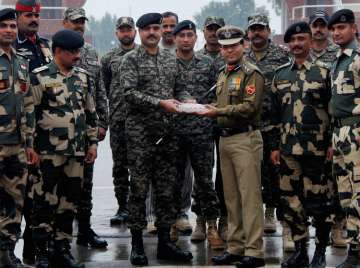 Source: PTI
India TV News Desk
Attari
January 26, 2017 20:25 IST
On the occasion of the 68th Republic Day, India's Border Security Force (BSF) offered sweets to its Pakistani counterpart here today. 
A BSF official said the troops posted at Indo-Pak border gifted sweets and fruits to Pakistan Rangers personnel, the neighbouring country's border-guarding force. 
The Pakistani Rangers' troop commander along with his colleagues accepted the sweets and shook hands with each other and exchanged pleasantries at Joint Check post of Attari-Wagah border.
Indian, Pak troops exchange sweets on Republic Day along LoC in Poonch 
In Poonch district of Jammu and Kashmir, Indian and Pakistani troops exchanged sweets at crossing points along loC on the occasion.
Indian troops presented sweets to the Pakistan Army personnel at Poonch-Rawalakot and Hot Spring-Mendhar crossing points as part of confidence building measures along the Line of Control today, a defence spokesperson said. 
The Pakistan Army officials reciprocated the gesture by presenting sweets in return to the Indian delegation, he said. 
"The exchange of sweets is demonstrative of the goodwill by the Indian Army to ensure peace and tranquility on the Line of Control", the spokesperson said. 
BSF and Pak Rangers also exchanged sweets along IB in Jammu frontier on the day. 
(With PTI inputs)