Justice Dipak Misra to be next Chief Justice of India, Justice Jagdish Singh Khehar's tenure ends on August 27
Justice Misra, 63, had headed the bench that had upheld the death sentence for the rapist-murderers of a 23-year-old student in Delhi on December 16, 2012.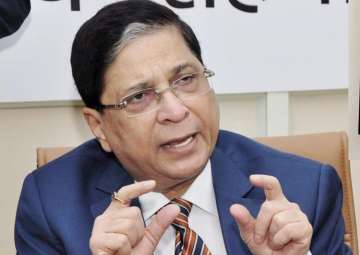 Written by: India TV News Desk
New Delhi
August 08, 2017 21:36 IST
Senior most Supreme Court judge Justice Dipak Misra has been appointed as the next Chief Justice of India (CJI). Justice Misra, who will be the 45th Chief Justice of India, will succeed incumbent  Jagdish Singh Khehar, who retires on August 27.
The outgoing CJI had recommended the name of Misra, the next senior-most judge in the apex court, as his successor. Justice Misra will have a tenure of nearly 14 months as the Chief Justice of India, as he is slated to retire on October 2, 2018.
The 63-year-old judge will be the third person from Odisha to become appointed the Chief Justice of India, after Justice Ranganath Misra and Justice G.B. Pattanaik.
​He headed the bench that rejected Mumbai serial blasts convict Yakub Memon's plea for stay on his execution and that which upheld death sentence awarded to December 16 gang rape convicts.
Born October 3, 1953, Justice Misra joined as an advocate on February 14, 1977 and practiced in constitutional, civil, criminal, revenue, service and sales tax matters in the Orissa High Court and the Service Tribunal.
Selected as an Additional Judge of the Orissa High Court on January 17, 1996 and transferred to the Madhya Pradesh High Court on March 3, 1997 and became a permanent Judge on December 19 the same year.
Justice Misra took charge of the office of Chief Justice, Patna High Court on December 23, 2009 and charge of the office of the Chief Justice of Delhi High Court on May 24, 2010. He was elevated as a Supreme Court Judge on October 10, 2011.