Kalikho Pul's death: Supreme Court to hear wife's plea seeking CBI probe tomorrow
The Supreme Court would tomorrow hear wife's plea seeking CBI probe into former Arunachal Pradesh Chief Minister Kalikho Pul's death and the purported suicide note attributed to him.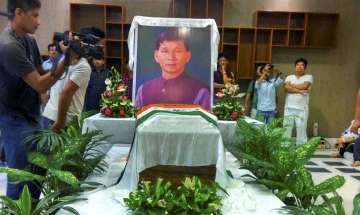 Source: PTI
India TV News Desk
New Delhi
February 22, 2017 20:48 IST
Treating the letter written by the wife of Kalikho Pul as a petition, the Supreme Court would tomorrow hear her plea seeking a CBI probe into former Arunachal Pradesh Chief Minister's death and the purported suicide note attributed to him. 
Pul had allegedly committed suicide on August 9 last year at his official residence at Itanagar and had left a a 60-page note titled 'Mere Vichar'. 
In an appeal to the Chief Justice of India, a copy of which she made public at a press conference here last week, Dangwimsai Pul, the first wife of the former chief minister, had said "it is essential that an FIR be registered on the basis of the allegations contained in it (suicide note) and the case be investigated by the CBI since the primary allegations are of corruption of judges at the highest level."
Treating the letter as a petition, a bench of Justices Adarsh Kumar Goel and U U Lalit would deal with her plea seeking a probe into his death and the allegations levelled in a purported suicide note of the former Chief Minister.
The matter has been listed for hearing before the two-judge bench tomorrow.
Dangwimsai had also alleged that her family was getting threats and she was advised not to hold the press conference in which she made the late chief ministers suicide note public.
"Ever since the (suicide) note surfaced in the media, my family including myself, my children and relatives have been subjected to various threats from different quarters," she has claimed.
47-year-old Kalikho Pul was found hanging from a ceiling fan at his official residence on August 9, 2016, weeks after being unseated as Chief Minister by a ruling of the Supreme Court. 
The Arunachal Police had found a 60-page letter written by Kaliko Pul near his body. Titled 'Mere Vichar' (My Views), the letter mentioned several "deliberate irregularities" by state leaders and Supreme Court judges over the years.
The contents of the note were made public by a news portal on February 8. 
"We want a free and fair probe in this case (into his death) and action according to law against those who are guilty of corruption," Dangwimsai had said at the press conference. 
The family members of Kalikho Pul have expressed concern over the "misuse" of the note for vested interest. 
Five relatives of Pul in an appeal on Tuesday said, "It is very unfortunate and distressing for the family that the note is being used by some individuals for vested political interest." 
The members comprised Pul's brother Bajaj Pul, nephews Muhilum Pul, Batong Pul, Ahoso Pul and Goneso Pul. 
Pul had become Chief Minister on February 19, 2016, after he along with 29 (19 Congress and 11 BJP) MLAs had defected to the People's Party of Arunachal Pradesh (PPA) — a state outfit — to form a new government, bringing down the existing Congress government led by Chief Minister Nabam Tuki. 
However, the Supreme Court reinstated the Tuki government on July 13, 2016, following which Pul and his supporters returned to the Congress and supported Pema Khandu as the Chief Minister. Though Khandu became Chief Minister on July 16 last year, Pul was yet to vacate the official residence at the time of his death.