'Lovin' it'! Pregnant woman finds dead lizard in McDonald's meal, files complaint
If you thought your Mc Donald's meal wasn't proving enough to satiate your taste buds, there could be a good reason behind it. In a shocking incident of negligence, a pregnant woman who was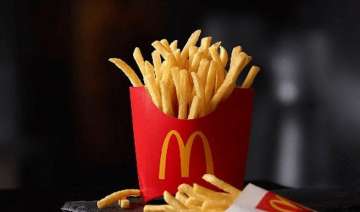 India TV News Desk
Kolkata
March 03, 2017 16:31 IST
If you thought your Mc Donald's meal wasn't proving enough to satiate your taste buds, there could be a good reason behind it.  
In a shocking incident of negligence, a pregnant woman who was out for a quick bite has found a deep-fried lizard in a serving of fries at a McDonald's outlet in Kolkata.
Priyanka Moitra, a resident of Kolkata, has filed an FIR against the restaurant.
The family visited the outlet on Eastern Metropolitan bypass with her daughter and ordered French fries only to discover the deep fried lizard in her snack.
"When I told the manager about the incident, he showed a careless attitude and left with just a sorry," Moitra later told the Times of India.
"Moitra lodged a complaint on February 28 as she and her daughter allegedly found a dead lizard in their packet of French fries at the McDonald's outlet in an E.M. bypass-based shopping mall here. She also gave a picture of the contaminated food item," an officer from Phoolbagan police station said.
The woman fell ill at the sight of the lizard and also became concerned about the health of her daughter who accompanied her, the police added.
This is not the first time that the food giant had been embroiled in a food quality controversy.  
(With inputs from IANS)