Mishap averted as Indigo, SpiceJet aircraft come face to face at Delhi's IGI
A major accident was averted today after two aircrafts came face to face at Delhi's Indira Gandhi International airport. An Indigo flight moving towards taxiway after landing at airport had a close call with SpiceJet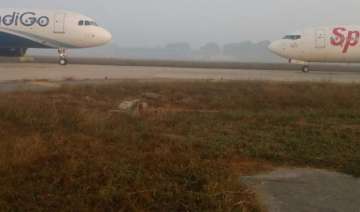 Source: ANI
India TV News Desk
New Delhi
December 27, 2016 12:38 IST
A major accident was averted today after two aircrafts came face to face at Delhi's Indira Gandhi International airport.
An Indigo flight moving towards taxiway after landing at airport had a close call with SpiceJet flight which suddenly came in front for take off.
The matter has been reported to Directorate General of Civil Aviation, an investigation has been ordered for the same.
All passengers are reported safe.
"SpiceJet flight SG 123 operating Delhi-Hyderabad was following ATC instructions at all times at the Delhi airport. While taxiing, the SpiceJet crew observed another aircraft on the same taxiway in the opposite direction. Acting promptly, the SpiceJet crew immediately stopped the aircraft and intimated the ATC," a statement issued by the airline said later. 
Safety is of utmost and primary concern at SpiceJet. At no stage the safety of passengers, crew and aircraft was compromised. All concerned authorities were immediately informed." said a SpiceJet spokesperson.
Earlier today, a Mumbai-bound Jet Airways plane carrying 154 passengers and 7 crew members skidded off the runway while taking off at Dabolim airport in Goa.
According to News agency ANI, 15 out of 154 passengers who were onboard Jet Airways flight 9W 2374 sustained minor injuries and was to hospital.