Rescue operation at Andaman delayed due to heavy rains: Navy
The Indian Navy today launched a major rescue operation to evacuate almost 800 tourists stranded at Havelock Island due to heavy rains. Navy dispatched four ships after the civil administration telephonically requested for assistance in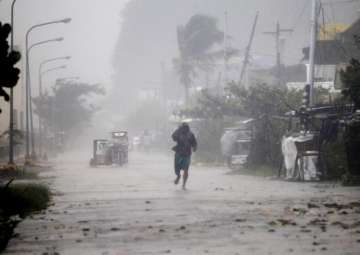 Source: PTI
India TV News Desk
Port Blair
December 07, 2016 13:18 IST
The evacuation process of the tourists stranded at Havelock Island in Andaman and Nicobar has been delayed due to rough weather, Navy spokesperson said.
Navy deployed four ships after the civil administration telephonically requested for assistance in evacuating the tourists.
"In ships Bitra,  Bangaram, Kumbhir and LCU 38 sailed/  deployed for evacuation. All ships to go alongside and ferry tourists to Port Blair. Ships departed Port Blair 0315h onwards. Highest consideration is  safety," it said.
#HADR Dist betwn Port Blair & Havelock-25Nm/50kms.Ships waiting off island. Evacuation Ops delayed due very rough weather @SpokespersonMoD pic.twitter.com/n9Jw4sSb7N

— SpokespersonNavy (@indiannavy) December 7, 2016
Earlier today, Navy launched a major rescue operation to evacuate almost 800 tourists stranded at Havelock Island due to heavy rains
"There is a deep depression (in the sea) about 310 kms from Port Blair. That is why the Navy was contacted as we don't want to take any chances," an official from Directorate of Disaster Management, A&N administration, told IANS.
The official said that because of heavy rains and winds, the difficulty tourists are facing is to reach the jetty to board the ships.
"We can't say as of now that the depression will turn into a cyclone," the official said.
They expect the evacuation to be completed by the evening, he said.
Navy spokesperson Captain D.K. Sharma said the ships were in the area and that there was a bad sea state.
He said the ships departed from Port Blair around 0315 hours onwards.
The official said the Indian Navy has sent four ships -- INS Bitra, Bangaram, Kumbhir and LCU 38 -- for the evacuation.
Sharma said all the ships will go alongside and ferry tourists to Port Blair. Their highest consideration is safety of the tourists.