No bilateral meet, clarifies MEA after Doval-Aziz's '100-feet walk'
National Security Adviser Ajit Doval's brief conversation with Pakistan's foreign affairs adviser Sartaj Aziz triggered speculations of a breakthrough in ties between the two countries. However, the External Affairs ministry categorically rejected re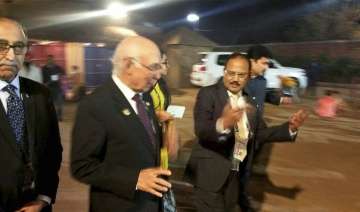 Source: PTI
India TV News Desk
Amritsar
December 05, 2016 12:39 IST
National Security Adviser Ajit Doval's brief conversation with Pakistan's foreign affairs adviser Sartaj Aziz triggered speculations of a breakthrough in ties between the two countries.
However, the External Affairs ministry categorically rejected reports that there was any "bilateral meeting" between them.
Foreign ministry spokesman Vikas Swarup said: "I have been receiving several queries throughout the day on whether there was a meeting between NSA and Sartaj Aziz. This is to categorically state that there was no pull aside or bilateral meeting between the two."
Indian authorities brushed aside as insignificant a photograph which showed Doval and Aziz together, saying the two had merely walked together for "100 feet" after the dinner for delegates late on Saturday night., Pakistani officials maintained that they had a "meeting".
Aziz was in India to take part in the 'Heart of Asia' conference aimed at stabilizing Afghanistan, which is faced with a resurgent Taliban insurgency.
Terrorism was on the minds of India and Afghanistan as they interacted with Aziz. Although host India did not mention Pakistan while hitting out at the terror infrastructure in the region, the real salvo came from Afghan President Mohammad Ashraf Ghani at the conference inauguration with Aziz in the audience. 
Attended by some 40 countries, the two-day conference concluded with a strong declaration calling for concerted regional and international cooperation to ensure elimination of terrorism as well as dismantling of terrorist sanctuaries and safe havens in region as also disrupting all financial, tactical and logistical support for terror networks.
Stopping short of directly naming Pakistan in his speech at the meet, Prime Minister Narendra Modi said "resolute action" was needed not just against forces of terrorism, but also against "those who support, shelter, train and finance them", asserting that terrorism and externally induced instability pose the gravest threat to Afghanistan's peace, stability and prosperity.
In a no-holds-barred attack, Ghani snubbed Pakistan for exporting terror and said funds offered by Islamabad to rebuild Afghanistan would be better used to fight terrorism.