One BJP leader arrested in child trafficking case, accused names Kailash Vijayvargiya, Roopa Ganguly
Kailash Vijayvargiya and Roopa Ganguly have been reportedly named by a key accused in a recent child trafficking case in West Bengal's Jalpaiguri district.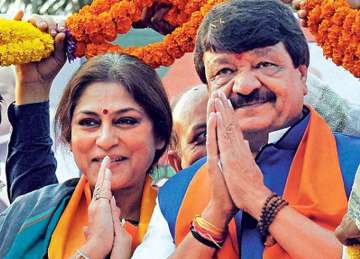 India TV News Desk
Jalpaiguri
March 01, 2017 13:00 IST
In what could come as a big embarrassment for the Bharatiya Janata Party, two of its leaders., viz., Kailash Vijayvargiya and Roopa Ganguly, have been reportedly named by a key accused in a recent child trafficking case in West Bengal's Jalpaiguri district, in which another BJP leader Juhi Chowdhury is an accused. 
Chowdhury was arrested on Tuesday night close to the India-Nepal border in Darjeeling district by CID sleuths, police said.
Chowdhury, who was on the run for the last few days after her name was linked to the case involving trafficking of at least 17 children, was picked up from Batasi area under Kharibari police station in Siliguri sub-division, said Special Superintendent (north), CID, Ajay Prasad.
She was being brought for interrogation to the Pintel Village, where the CID has set up a temporary camp and will be produced in court on Wednesday.
Chowdhury's arrest came on a day when Chandana Chakraborty, arrested in connection with the scandal earlier this month, blamed her for the wrongdoing.
Chakraborty has alleged that Chowdhury perhaps spoke to Vijayvargiya, BJP's national general secretary, and Ganguly, BJP's WB women's wing president to "resolve some issues" about the child care home, media reports said. 
Chakraborty, chairperson of Jalpaiguri-based child adoption centre Bimala Sishu Griho, was arrested with Chief Adoption Officer Sonali Mondal for allegedly selling at least 17 children through shady adoption deals.
The CID later arrested Manas Bhowmik in connection with the case.
Her links with the woman BJP leader are also being probed.
"Juhi Chowdhury is involved with the adoption centre for the last three years. If something wrong or immoral was done, it was done by her. Why am I being victimised? I am not the culprit," Chakraborty said in Jalpaiguri on Tuesday morning.
She admitted going to Delhi with Chowdhury to seek "help" for her organisation and claimed the BJP leader did all the negotiations with the senior leadership while she was in a different room.
"Juhi assured me she would sort out all the issues," Chakraborty said.
"I haven't talked to anyone, Juhi did. She might have talked to (BJP leaders) Roopa Ganguly and Kailash Vijayvargiya. I was sitting in a separate room. We are innocent. We will definitely help in the investigation," she added.
Denying the allegations, BJP state president Dilip Ghosh claimed on Tuesday morning Chowdhury was being victimised as part of a larger political conspiracy.
"Juhi was not a part of their (child adoption centre) committee. She has been dragged into the case as she went to Delhi with her (Chakraborty)... If Juhi is found guilty, the law will take its course," Ghosh said in Kolkata.
Queried on the issue before Chowdhury's arrest, Ganguly shot back: "Why should I respond to what an accused has said?"
Vijayvargiya also denied allegations while accusing the Kolkata Police of "being controlled" by ruling Trinammol Congress.  
"They (Kolkata Police) keep conspiring against us," Vijayvargiya said, adding, "They have already targeted our party leaders Joyprakash Majumdar and Sishir Bajoria. Now they are conspiring against me."