Our strategic capabilities not against any country: India replies to China on Agni V test
In response to China's statement over India's successful testing of the nuclear capable Agni-V ICB, India on Tuesday said that its strategic capabilities are not targeted at any particular country. "India's strategic capabilities are not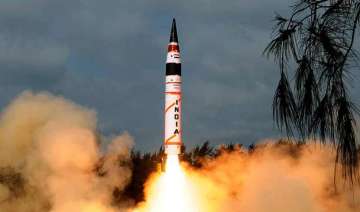 Source: PTI
India TV News Desk
New Delhi
December 28, 2016 12:10 IST
In response to China's statement over India's successful testing of the nuclear capable Agni-V ICB, India on Tuesday said that its strategic capabilities are not targeted at any particular country.
"India's strategic capabilities are not targeted against any particular country," External Affairs Ministry spokesperson Vikas Swarup said in a statement.
Underlining that India adheres to all international obligations, Swarup said India expects others to follow the same.
"India abides by all the applicable international obligations and hopes that all other do the same," he said.
"India's strategic autonomy and growing engagement contributes to strategic stability," he added. 
Earlier on Tuesday, Chinese Foreign Ministry spokesperson Hua Chunying said: "We have noted reports on India's test fire of Agni-V ballistic missile. The UN Security Council has explicit regulations on whether India can develop ballistic missiles capable of carrying nuclear weapons."
"China always maintains that preserving the strategic balance and stability in South Asia is conducive to peace and prosperity of regional countries and beyond," Hua added.
Hua also criticised media reports in India and outside referring to the Agni-5 as targeted at China and aimed at correcting India's strategic balance with Beijing.
"On the test firing by India, we have also noted that some media, including Indian media and also some Japanese media, have speculated on whether this act of India is targeted at China," she said. 
"I think, as to India's intentions, you have to ask the Indian side," she said adding that India and China are not rivals but partners. 
"As for us, we think that the leaders of China and India have an important consensus which is that China and India are both important developing countries and emerging economies," she said.
India on Monday moved a step closer to join the super exclusive club of countries with nuclear-capable ICBMs by successfully test-firing the indigenously developed Agni-V off the Odisha coast.
Once the Agni-V is inducted, India would be among the league of the nations like the US, Russia, China, France and Britain with ICBM capability.
IANS inputs