Proposal to add 15,000 men to Delhi Police gets Home Ministry nod
The Home Ministry has cleared a proposal to add 15,000 more personnel to the Delhi Police. The proposal has now been sent to Finance Ministry for final approval, Home Minister Rajnath Singh informed today. Terming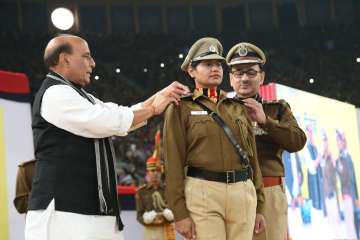 India TV News Desk
New Delhi
December 31, 2016 19:01 IST
The Home Ministry has cleared a proposal to add 15,000 more personnel to the Delhi Police. The proposal has now been sent to Finance Ministry for final approval, Home Minister Rajnath Singh informed today.
Terming the strength of Delhi Police 'inadequate', the Home Minister said that the expansion, if effected, will make the force nearly one lakh strong.
"I feel Delhi Police strength is not adequate. It has to increase. The proposal pertaining to recruitment of 15,000 personnel have been sent to the Finance Ministry by the Home Ministry. I hope the approval will be received soon," Singh said while addressing a mega police event where ranks were awarded to 24 personnel out of the 27,000 promoted this year.
एक विहंगम एवं जोश से परिपूर्ण समारोह में माननीय गृह मंत्री श्री राजनाथ सिंह ने दिल्ली पुलिस के २५००० से अधिक पदोन्नत कर्मियों को अलंकृत किया pic.twitter.com/x9T6khgX2o

— Delhi Police (@DelhiPolice) December 31, 2016
The event also saw the presence of Ministers of State (Home) Kiren Rijiju, Hansraj Gangaram Ahir and Delhi Police Commissioner Alok Verma and a bevy of senior officials, inspectors, constables and their family members.
Singh said it was "raining promotions" in Delhi Police as "no where" have so many personnel been promoted together. He lauded Verma's efforts toward removing the stagnation in promotion.
"Promotions are in short supply in Police as well as in paramilitary forces and when it happens the person is on the last leg of his career. I had told the police commissioner to promote personnel when it is due without any hesitation," Singh said.
According to official data, Delhi Police at present has a total sanctioned strength of around 82,242, of which 77,083 are filled.
(With inputs from PTI)