Quality education key to emancipated society: CJI
Justice T S Thakur on Saturday said education is the only means for progress without which no society or state could achieve anything.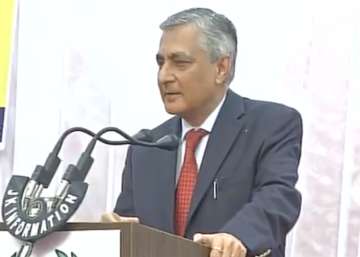 Source: ANI
India TV News Desk
Jammu
December 04, 2016 9:57 IST
Stressing on the need for quality education for an emancipated society, Chief Justice of India, Justice T S Thakur on Saturday said it is the only means for progress without which no society or state could achieve anything. 
Justice Thakur visited the Central Basic Higher Secondary School here, from where he had his schooling, and took a tour of the school complex, reminiscing about his days as a student. 
He stressed on the importance of education and extra- curricular activities in the overall development of a student adding that the skills learnt by him at the school like debating, declamation, public speaking helped pave way for his future as a lawyer and then as a judge. 
Education is the only means for progress without which no society, state could achieve anything, he added. 
Justice Thakur said no compromise should be made with regards to education and it saddens him when he sees that despite great progress in last 50 years, the state of schools reflect a tale of neglect. 
While speaking during his visit to the school, Justice Thakur broke down and his voice choked. 
#WATCH : CJI TS Thakur breaks down while addressing children at Centre Basic School in J&K. pic.twitter.com/CQwlobqmza

— ANI (@ANI) December 3, 2016
"In last 50 years, we've even gone to Mangalyaan, but there has been no change in infrastructure of this school, same old broken chairs. I know situation is bad in region since last 25-30 yrs because of extremism. Government is facing lot of challenges but education is one thing which can't be compromised as it is only way to progress," said Thakur.
The plight is not of just one school but of various educational institutions which need to be upgraded with latest equipments, smart classrooms, digital library, labs, talented teachers to ensure maximum growth of the students, he said. 
These educational institutes help to shape many students into successful persons in their chosen professions, they are not just the heritage of the state but hold extreme importance in the development scenario and every effort needs to be made to ensure that these schools do not end up as parking lots or commercial complexes, Justice Thakur said. 
Expressing hope, he said with the actions taken by the government over the past few years, he is hopeful that the outlook of education will change for better in the state. 
He also urged the people to recognise the lead role that teachers play in child's development and asked them to acknowledge their contribution. 
Responding to a request by one Priya Sethi for taking the school under his patronage, the CJI said he will make every effort to do his part to give back to the institution that shaped him. 
Earlier, Justice Thakur felicitated the teachers from his time at the school and remembered their role, contribution in helping him realise and develop his potential to the fullest. 
Speaking on the occasion, the Jammu and Kashmir Law Minister Abdul Haq Khan said efforts were being made to bring the state's educational institutions at par with the national standards. 
He said that the visit by the distinguished alumni like CJI serves as a necessary motivation to give that extra thrust to students to work hard and see the pathways that education opens for them through hard work and dedication.
(With PTI inputs)