Retiring today, INS Viraat's 57-year voyage comes to an end
India TV News Desk
Mumbai
06 Mar 2017, 11:00:14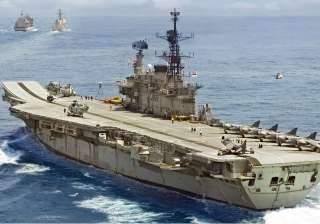 INS Viraat, Indian Navy's former flagship and world's oldest serving aircraft carrier, will be decommissioned at sunset today after 57 years of service, including 27 with the Royal Navy. 
Chief of Naval Staff, Admiral Sunil Lanba - who was once the executive officer of the ship in 1998 - will be present for the momentous occasion, along with some officers and men from India and United Kingdom who serve with her
At sunset today, the Naval Ensign and Commissioning Pendent will be lowered for the last time on board INS Viraat symbolizing the end of her glorious era in Indian naval history.
The ceremonies of the Guinness Record holder warship shall be commemorated by releasing a book on her history, and a Special Cover by Army Postal Service.
The Andhra Pradesh government has formally evinced interest in making the INS Viraat a museum, though similar plans for the erstwhile Vikrant had failed.
"We were keen to retain (INS) Vikrant (as a museum), but it did not materialize," Vice-Admiral Luthra said, referring to the country's first aircraft carrier which ended up in the scrap yard in Mumbai.
Presently, INS Vikramaditya is the only serving aircraft carrier of the Indian Navy and the second one, named Vikrant, is under construction at Cochin Shipyard Ltd.
"We expected that she will be ready for sea trials by the end of 2018. Ideally we should have three aircraft carriers and a long-term perspective plan looks at three such warships.. While one can be deployed on the western seaboard, the second can be on the eastern seaboard and third can be taken up for refits," he pointed out.
As far as a third aircraft carrier is concerned -- after INS Vikramaditya and the under-construction Vikrant, concept studies have been completed and deliberations on size are underway, Vice-Admiral Luthra said.
The motto of the outgoing warship, INS Viraat was 'Jalamev Yasya, Balmev Tasya' (Sanskrit, meaning - One Who Controls the Sea is All Powerful), which was first adopted by the great warrior king, Chhatrapati Shivaji Maharaj in the 17th century as the guiding principle of his naval-military strategy.
It housed the fighters 'White Tigers' - the Sea Harriers of INAS 300, which were decomissioned in Goa in May 2016, anti-submarine aircraft Sea King MK42B, Sea King MK42C or 'Harpoons', SAR helicopter Chetan, besides ALH 'Dhruv' and Russian twin rotor Kamov-31.
Under the Indian flag, she clocked more than 22,622 flying hours by various aircraft, spent around 2,252 days at sea sailing 10,94,215 km, and since her inception her boiler was running for 80,715 hours.
She played a major role in the Operation Jupiter in 1989 in Sri Lankan Peace Keeping operations, Operation Parakram in 2001-2002 when India and Pakistan were in a stand-off post-terror strikes on Indian Parliament, among others.
She took part in various international joint exercises like Exercise Malabar (USA), Exercise Varuna (France), Naseem-Al-Bahar (Oman), at all the annual theatre level war exercise, TROPEX and her last operational deployment was at the International Fleet Review, Visakhapatnam, in February 2016.
With a full load displacement of 28,700 tonnes, the 226.5 metres long and 48.78 metres wide ship was manned by 150 officers and 1,500 sailors.
(With PTI inputs)