Saharanpur's caste-based violence a 'well-planned' conspiracy: UP govt
The caste- based violence in Saharanpur is a well-planned conspiracy, the UP government on Thursday said.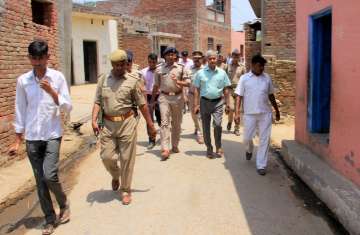 Source: PTI
India TV News Desk
Saharanpur
May 26, 2017 6:20 IST
The caste- based violence in Saharanpur is a "well-planned" conspiracy, the Uttar Pradesh government on Thursday said. Principal Home Secretary Mani Parsad Mishra said those responsible behind the conspiracy will not be spared. 
Addressing a press conference here, Mishra said though there had been incidents of violence reported from the district in the last few years but it had not attained the magnitude which was witnessed during April 20, May 5, May 9 and May 23 clashes. 
"It was also witnessed that since April 20 violence, the intensity of such incidents has been on a rise and some where it has been felt that there was something lacking in the police administration," he said, adding that following which a new team was sent to the district within 24 hours. 
He said that in next 24 hours, the situation is likely to become normal and those responsible for the violence would not be spared and no innocent will be made an escape goat. 
After arriving here, he said, he had met a number of people from Shabbirpur including the aged, women and children, and came across cases in which an 80-year-old man or a 14- year-old child have been made an accused. 
When asked why Congress leader Shailja was stopped from visiting Shabbirpur while Deoband MLA Brijesh Singh was allowed, he said there is total ban on visit by any political leaders to Shabbirpur, and it has happened then action would taken against those responsible. 
On the arrest of leader of Bhim Army Chandrashekhar Azad, he said he would be arrested soon. 
Asked about the ban on internet, he said the ban was imposed after there were reports of misuse of social media but it would be lifted soon when the situation becomes normal.
Saharanpur calm but tense 
An eerie calm prevailed in violence-hit villages of Saharanpur on Thursday, a day after two men were killed and over two dozen injured in fresh clashes, the police said. District officials said they are hopeful of normalcy to return soon.
Patrolling has been intensified in the region and the police are on the lookout for people suspected to be behind the violence. 
The Bharatiya Janata Party (BJP) and the Bahujan Samaj Party (BSP), meanwhile, traded charges against each other over the violence.
Deputy Chief Minister of Uttar Pradesh and state BJP President Keshav Prasad Maurya held Bahujan Samaj Party chief Mayawati directly responsible for the clashes and accused her of funding the Bheem Army in the region.
Mayawati snapped back by saying that neither she nor any leader of her party was linked to the Bheem Army -- a regional outfit accused of stoking the fires between the Dalits and the Rajputs. 
She also said that it was only during her visit to Saharanpur on Tuesday that she learned of this outfit using the name of Babasaheb Ambedkar and the BSP to exploit the poor Dalits.
Earlier, the state government transferred the Divisional Commissioner and the Deputy Inspector General of Police of Saharanpur, and flew in new officials to contain the spread of violence. 
Mobile internet services and social networking sites have also been blocked in the violence-singed areas. According to the District Magistrate's orders, this got necessitated to block rumours spreading through these means and inciting further violence.
A team of high-ranking officials from the Police and Home Departments is camping in the district to monitor the situation. 
Home Secretary Mani Prasad Mishra told IANS that they would be camping there till things completely turn to normal.
The Union Home Ministry has also sought a report from the state government on the Saharanpur violence.
(With agencies)