Salman Khurshid duped of Rs 59,000 while trying to buy puppies online
India TV News Desk
New Delhi
08 Mar 2017, 14:29:55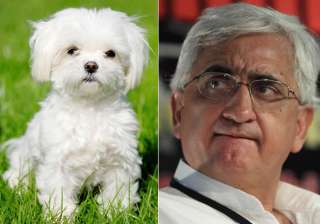 Senior Congress leader Salman Khurshid turns out to be the latest in the list of victims to be duped in an online fraud. Khurshid, police said, has been duped of Rs 59,000 by two people on the pretext of selling Maltese puppies. 
According to police, Khurshid came to know about the sale while surfing a website on February 13. The advertisement quoted the price of two puppies at Rs 12,000 each. 
The former minister contacted the seller, identified as Tonny Wallace, over email. Tonny claimed that he was sitting in Kerala's Thekkad and asked him to transfer the money in the account of one Ankit Badri.
Following the email correspondence till February 19, a representative from Khurshid's office started interacting with Tonny, who asked him to transfer the money in the account of Badri.
After Khurshid's representative transferred Rs 59,000 to Badri's account, Tonny told Khurshid that he would be available on his US toll free number and on Facebook.
The accused then demanded more money from the Congress leader on the pretext of health checks and health certificate of the puppies and their transportation to Delhi.
Later, Tonny told the minister that the pets will be delivered to Delhi through a pet travel agency - Pacific Pet Re-Locators - but they were never delivered.
Khurshid filed the complaint on February 21 with the Barakhamba Road police station and subsequently the matter was transferred to the Economic Offenses Wing (EOW).
Police said that they have begun a probe in the matter and are trying to identify the accused through the bank account details and the Facebook page link shared by Khurshid.
The former minister also alleged in the complaint that the accused transact in online trading of Bitcoins wherein they lure online purchasers through advertisements on e-commerce websites.
Khurshid said that they investigated the matter at their end and have provided all the details to the investigators.
"The cyber world is full of pitfalls and ensuring cyber security is a huge problem. I hope that the police that is engaged in looking after cybercrime will be able to get to the bottom of this," he said.
While the Congress leader's complaint mentions about the Bitcoin trade, the FIR registered by EOW does not have any such details.
"Bitcoin trade is a worrisome thing because it is anonymous and because it is used world over for nefarious things. If we are aren't alert now, something might happen. It will come out. We are giving them (police) some time," Khurshid added.