Secret tunnels, explosives factory found in Dera premises; search to continue tomorrow
Ram Rahim was convicted in the 1999 rape cases by a CBI special court in Panchkula on August 25. He was later sentenced to 20 years of rigorous imprisonment.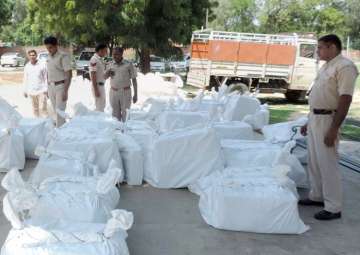 Reported by: IANS
Sirsa
11 Sep 2017, 15:29:07 PM IST
Two secret tunnels and an illegal explosives factory were found inside the premises of the Dera Sacha Sauda headquarters near Haryana's Sirsa town on Saturday on Day 2 of the search by security forces and authorities.
The search operation of the Dera premises continued on Saturday with hundreds of security personnel and local administration involved in the exercise. Curfew continued in the area around the sprawling Dera campus. "The search had revealed an illegal factory inside the premises. A case has been registered against the Dera," Haryana government spokesman Satish Mishra said in Sirsa.
The Dera management, in its defence, told officials that the explosives material was used to make fire crackers. Mishra said that two secret tunnels were also found inside the Dera campus.
One of the tunnels linked the 'gufa' (cave), a huge pink coloured building that was the ultra-luxury home of the rape-convicted sect chief, to the hostel meant for female disciples (sadhvis). He said the matter was being investigated. The second tunnel led to a mud path which looked like a secret escape route opening out about five km away.
According to sources, the search teams had also found hundreds of pairs of shoes, designer clothes and colourful caps of the disgraced sect chief Gurmeet Ram Rahim Singh, who was convicted on two counts of rape of female disciples on August 25.
The search operation to sanitise the sect premises started on Friday amid tight security with a few computers, a luxury SUV and currency notes being seized. The media was kept at some distance from the Dera premises.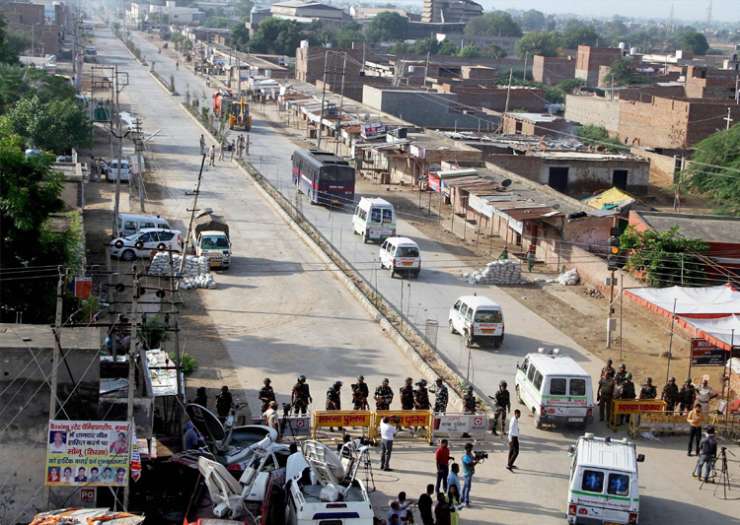 Vehicles of the search team move towards Dera HQs on second day of ops
JCB machines, locksmiths, forensic experts and dog squads were called in on Friday to assist in the comprehensive search. Internet services in Sirsa district were suspended by authorities on Friday till September 10. The search was being conducted under the supervision of Court Commissioner AK Pawar appointed by the Punjab and Haryana High Court.
Senior district administration and police officers, along with paramilitary forces and Haryana Police, were involved in the videographed operation around the sprawling 700-acre campus. Duty magistrates were appointed for various zones of the Dera. 
Officials from the Police, Revenue, Health, Education, Tourism and other departments are involved in the operation. Bomb disposal squads and commandos were also deployed as a preventive measure. All roads leading to the headquarters from Sirsa and nearby places were sealed.
The Dera is spread over two campuses, 600 acres and over 100 acres respectively, about eight km from Sirsa and 260 km from Chandigarh. It houses a stadium, a hospital, educational institutions, luxury resort, bungalows and markets. Hundreds of people and sect followers permanently live and work in the mini-township.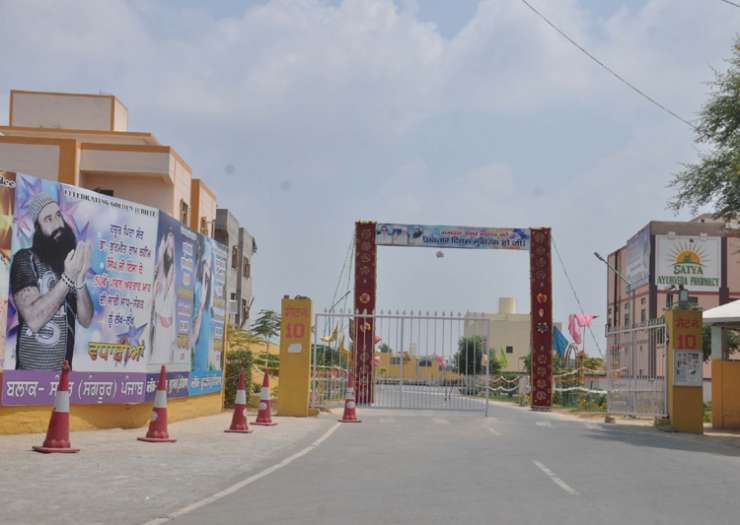 Dera Sacha Sauda
The premises, where the sect chief lived, known as the "gufa" (cave), is itself spread over an area of nearly 100 acres. It is said to have ultra-luxury facilities. The campus has palatial bungalows of his other family members, none of whom are in the premises since August 25.
Ram Rahim was convicted in the 1999 rape cases by a CBI special court in Panchkula on August 25. He was later sentenced to 20 years of rigorous imprisonment and is lodged in the District Jail at Sunaria near Rohtak. His conviction led to violence in Panchkula and Sirsa in Haryana, leaving 38 people dead and 264 injured. Isolated incidents of violence were also reported from Delhi and several other places in Punjab.