Shocking! Insect found in IV fluid administered to 6-year-old girl in Hyderabad hospital
In a shocking case of medical apathy and carelessness, parents of a six-year-old girl have said that they found an insect in the Intravenous (IV) fluid bottle being administered to their daughter while undergoing treatment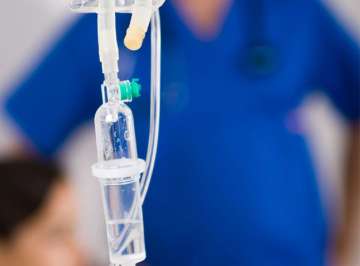 India TV News Desk
Hyderabad
December 15, 2016 17:10 IST
In a shocking case of medical apathy and carelessness, parents of a six-year-old girl have said that they found an insect in the Intravenous (IV) fluid bottle being administered to their daughter while undergoing treatment at Gandhi Hospital in Hyderabad.
The child, Sai Pravalika, was undergoing treatment and was suffering from fever.
Her parents, Bikshapati and Sumalatha were stunned to witness the insect skimming in the IV fluid bottle. 
They further claimed that the girl's condition got worse since the time she was given the fluid.
The family hails from Mondrayi village in Janagam district of Telangana.
The girl is currently under the close observation of the team of doctors.