To challenge 'unruly' Pak military court's verdict, Kulbhushan Jadhav is left with these three options
Hopes have not diminished for Kulbhushan Jadhav totally as he is still left with three options which could bring him some relief. Here they are: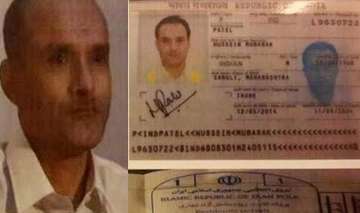 Source: PTI
India TV News Desk
New Delhi
April 11, 2017 9:03 IST
Pakistan on Monday sentenced former Indian Navy officer Kulbhushan Jadhav to death. The Field General Court Martial (FGCM) sentenced Kulbhushan Jadhav to death on the charges of "espionage and sabotage activities". 
Pakistan Army General Qamar Javed Bajwa confirmed the death sentence to Kulbhushan Jadhav after the Field General Court Martial found him guilty of "all the charges".
While the government will expectedly try its best to bring relief to Jadhav's family, the reality lies upfront that there is not much chance left for Kulbhushan.
FGCM is a Pakistan military court where Pakistan Army officers act as judges who are not required to possess law degrees. These courts have the right to try civilians for several crimes. Moreover, the government can also transfer cases to the FGCM. 
However, hopes have not diminished for Kulbhushan Jadhav totally as he is still left with three options which could bring him some relief. Here they are: 
1.    Under the provisions of the Pakistan Army Act 1952, Kulbhushan Jadhav is eligible to appeal in the Military Appellate Tribunal. But the chances of getting the verdict differed are very less. 
2.    A 'review' of the judgement by the military court in a civilian court is possible. Pakistan Army Act Section 7.2.3 allows military court convicts to get the decision reviewed by civilian courts. In this case, Kulbhushan can have a lawyer of his choice. Also, the Indian government can find a lawyer to defend him if Pakistan allows consular access to Kulbhushan. 
3.    Kulbhushan can also make an appeal to the Pakistan's Supreme Court as well as the President to challenge military court's verdict. 
The existence of military courts has been questioned by Pakistan's human rights activists, especially for trial of civilians. 
The courts are not required to release a written judgement which explains the reasoning and logic behind the verdicts. Even the families of convicts are not told about the investigation and evidence related to the case. 
While India has never sentenced death to any Pakistani national for 'spying', Pakistan, on the contrary, had executed one Indian national – Sheikh Shamim – in 1999, almost ten years after he was arrested on charges of spying. 
In 2013, another Indian national Sarabjit Singh, sentenced to death for spying in Pakistan, was killed in jail after being attacked by other prisoners. 
In case of Kulbhushan Jadhav, Pakistan has claimed that he was a commander-rank officer with the Indian Navy. India, on the other hand, has maintained that he retired from the Navy in 2002 and had nothing to do with the Indian government. Jadhav's family has also claimed that he was not a serving officer any more. 
Islamabad used the arrest of Jadhav to claim "evidence" that India's external intelligence agency RAW was fomenting terrorism in Balochistan.  
The Indian government, through its High Commission in Islamabad, has repeatedly sought consular access to Jadhav, as provided for by international law. 
Requests to that effect were formally made 13 times between 25 March 2016 and 31 March 2017, which have been persistently rejected by the Pakistani authorities.