Watch: Suresh Prabhu unveils all new feature-rich 'AC-Three Tier' coaches
Railway Minister Suresh Prabhu on Friday unveiled new 'AC-Three Tier' coaches aboard the 'Humsafar Express' which sport modern facilities such as GPS-based information systems, mini pantry, improved safety systems and attractive exteriors among other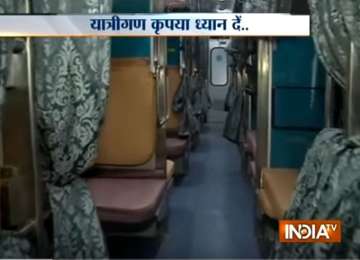 India TV News Desk
New Delhi
December 09, 2016 18:33 IST
Railway Minister Suresh Prabhu on Friday unveiled new 'AC-Three Tier' coaches aboard the 'Humsafar Express' which sport modern facilities such as GPS-based information systems, mini pantry, improved safety systems and attractive exteriors among others.
The minister took to Twitter to share the details. In a series of tweets he wrote:
"Unveiling your "Humsafar", inspected and unveiled the new rakes of Humsafar brand of trains to be run," Prabhu said. 
"Humsafar Express is new beginning for affordable luxury train travel in India. A new train product which is fully AC with optional catering," the Railway Minister said in another tweet.
Highlighting the facilities of the new train, Prabhu said: "Humsafar train coaches will have pleasing and comfortable interiors and attractive exteriors."
"GPS-based public information system, deodoriser, fire suppression system, pleasing and hygienic lavatories are just some of the features."
"It will also be equipped with mini-pantry with oven/fridge, convenient berth identification, distinctive furnishing board and welcome boards," he elaborated.
The Railway Minister observed that the new 'train product' was a "Rail Budget promise". 
"Coming up with various new products to cater to different needs of our people," Prabhu added.
The Humsafar Express is a special class train which is meant to operate for inter-city overnight journey. 
The train includes facilities which are otherwise not available in normal 'AC-3 Tier coaches'.