'We only share details after execution': Army Chief Bipin Rawat on action against Pak Army
Three days after Pakistan's 'inhumane' act that saw its Border Action Team (BAT) mutilate the bodies of two Indian soldiers in Kashmir's Krishna Ghati, Army Chief Bipin Rawat today said that the security forces will retaliate to these kind of actions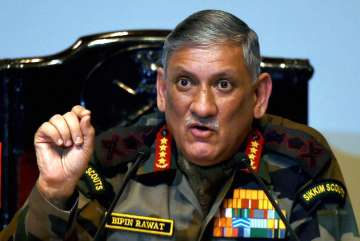 Source: PTI
India TV News Desk
New Delhi
May 04, 2017 14:29 IST
Three days after Pakistan's 'inhumane' act that saw its Border Action Team (BAT) mutilate the bodies of two Indian soldiers in Kashmir's Krishna Ghati, Army Chief Bipin Rawat today said that the security forces will retaliate to these kind of actions. 
 

"We don't talk about future plans beforehand; we share details after execution," Rawat aid while talking about the preparation of the security forces in restive Jammu and Kashmir.

 
 

"We are taking measures, have beefed up our counter infiltration posture to take care of the situation," he added. 

 
Rawat also asserted that the combing operations being undertaken by the Indian Army today were not something that the Army was doing for the first time and that they were a regular affair. However, he did note that the operation comes amid concerns over killing of police personnel and looting of banks by militants.  
 

"Banks have been looted, policemen have been killed. That is why today's combing operation is taking place. Today's combing operation is to make sure that situation is brought under control, post recent incidents," said the Army Chief. 

 
Indian Army has launched a massive combing operation in Shopian district as the terrorists are making an attempt to infiltrate as the snow melts.
 

"Terrorists are going to attempt infiltration, snow is melting, summer months have started. So like each year infiltration will commence," he said. 

 
The Army Chief was asked about the crackdown by security forces in at least 20 villages of south Kashmir's Shopian district searching for militants involved in recent terror attacks and bank robberies.
Replying to questions about India's possible response to the killing of two soldiers and mutilation of their bodies by Pakistan Army, Gen Rawat parried a direct answer.
 

"Such responses keep happening. We also take counter measures. There is nothing new in it."

 
Under the cover of heavy mortar fire, a Pakistani special forces team sneaked 250 metres across the Line of Control (LoC) into the Poonch sector and beheaded two Indian security personnel on Monday.
The Indian Army vowed an "appropriate" response to the "despicable act", which significantly took place a day after Pakistan army chief Gen Qamar Javed Bajwa visited some areas along the LoC and promised support to the Kashmiris.
Pakistan, however, denied that it was involved in the attack.