'Won't accept body of a traitor': Suspected ISIS terrorist Saifullah's father refuses son's dead body
India TV News Desk
Lucknow
08 Mar 2017, 16:28:05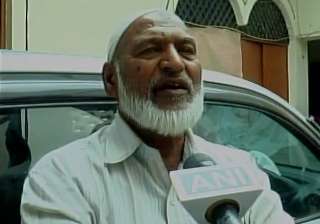 Shocked over his son's alleged links with dreaded terror group Islamic State, the father of slain militant Saifullah today said that his son was a 'traitor' and that he will not accept his body.
Speaking to reporters, Sartaj Ahamad said that he got to know of Saifullah's whereabouts and his activities only last evening.
Sartaj informed that Saifullah (24) was pursuing B.Com before he left home following a brawl over his joblessness. At that time, he said, Saifullah headed to Mumbai. It was on last Monday, Saifullah called his family members to inform that he was going to Saudi. 
#WATCH: Sartaj, father of Saifulla says,"Ye desh-hitt mein nahi tha hum usse naraz hain,aise deshdrohi ki laash nahi lenge" #LucknowTerrorOp pic.twitter.com/bGMxHlokJM

— ANI UP (@ANINewsUP) March 8, 2017
"This was not in country's interest. We will not accept the body of an anti-national. Two-and-a-half months back he left home after I beat him up for not working. He called last Monday saying he's going to Saudi," he said.
"We refused to accept his body because he never listened to us," he added.
A joint operation by the Uttar Pradesh Police and the state ATS had killed Saifullah in the wee hours on Tuesday night after 12 hours of anti-terror operation.
The deceased's elder brother Khalid said that he had tried hard to persuade Saifullah to surrender.
"Last time he had spoken to me was during the encounter. I had tried to convince him to surrender but got no response. My brother hand gone to Mumbai to obtain visa for Saudi. He was not in touch with the family from last more than two months," he said.
After the operation was over, security forces opened the doors of the house where the terrorist was holed up. The force went inside and found the suspect dead along with weapons that also included an ISIS flag, gold, cash, passports, SIM cards and a train time table. The other materials seized included wires, different cords and newspapers.