1 in 7 suffer from severe allergic reactions
New Delhi: In a recent study done by World Allergy Organization, it was found that every 1 in 7 people in India suffer from severe allergic reactions. According to a comprehensive study conducted in a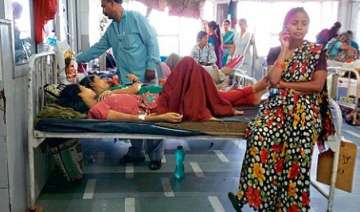 India TV News Desk
January 08, 2015 19:09 IST
New Delhi: In a recent study done by World Allergy Organization, it was found that every 1 in 7 people in India suffer from severe allergic reactions. According to a comprehensive study conducted in a clinical laboratory in India, the tests on 20,293 blood samples revealed that 15.7% of people had allergy.
Most of the people tested were found to be prone to dust allergy (43.93%) followed by allergy to pollens (20.6%), fungus (10.5%) and animal danger (10.3%).
Being allergic to a substance is a normal human health phenomenon. And in most of the cases, an individual fails to realize from which thing he/she is feeling hypersensitive to. Most of the allergic symptoms that a normal human body encounters include breathlessness, coughing, itching, running nose, skin-related issues, throat infection, sneezing, and rashes amongst many others.
After the study, it was also concluded that the pollutants present in the air also cause allergies to get a bit more severe. So much could be the ill effects that a person can suffice himself to an asthma attack and even death in rare cases.
Speaking to Times of India, Dr. Deepak Sanghavi, deputy chief of lab services, Metropolis Healthcare (the laboratory that conducted the study) said, "one in seven people are suffering from one or the other kind of allergy at any given point of time and our body is intolerant to several substances it is exposed to. Such a high number clearly indicates that immunity levels of people are low and factors like pollution and dust are causing severe complications."