2 attempts were made to attack Mumbai prior to 26/11, reveals David Headley
Mumbai: Lashkar-e-Taiba terrorist David Coleman Headley, who is now an approver in the 26/11 Mumbai terror attacks case, started his deposition before a Special TADA Court via videoconferencing from a US jail.Two attempts were made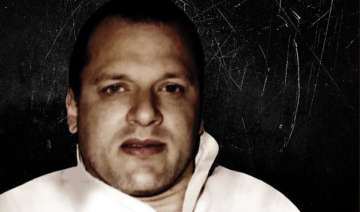 India TV News Desk
February 08, 2016 15:34 IST
Mumbai: Lashkar-e-Taiba terrorist David Coleman Headley, who is now an approver in the 26/11 Mumbai terror attacks case, started his deposition before a Special TADA Court via videoconferencing from a US jail.
Two attempts were made to atttack Mumbai Prior to before 26/11 attack that killed 166 people, Headley revealed.
Special Public Prosecutor Ujjwal Nikam is leading the prosecution case while well-known criminal lawyer Mahesh Jethmalani is representing Headley before Special TADA Court Judge G.A. Sanap at the five-hour proceedings.
David Headley's deposition in Mumbai court will continue at 7am tomorrow.
We bring to you the major revealtions made by David Headley
* When asked for the reason to meet smugglers, Headley said that they wanted to send some weapons to India to fight for Kashmir
* Headley also said that he was arrested in Peshawar (Pak) in 2002-03 because he went to meet drug smugglers
* Jihad' is to fight against enemies of Islam, said David Headley on being asked what is 'Jihad' according to him, by Ujjwal Nikam
* I intended to go to Kashmir to fight against Indian troops, but they (Lakhvi) didn't send me
* During these courses they also taught us that India is enemy of Islam
* I visited 5-6 militant training camps in Pak. I attended Daura-e-Suffa,Daura-e-Amma,Daura-e-Khasa,Daura-e-Ribat leadership courses
* Headley identifies Hafiz Saeed as head of LeT in Pakistan
* During these leadership courses I met Zaki-ur-Rehman Lakhavi & Hafiz Saeed sahab. They used to give religious 'jihad' speeches
* Headley said that he changed his name from Dawood Gilani to David Headley in America after joining LeT- Ujjawal Nikam
* Headley said that he did LeT's work on directions of Hafiz Saeed
* Dr. Tahawwur Hussain Rana was my schoolmate for 5 years. After school, Rana became a doctor in Pakistan Army in Rawalpindi
* Dr. Tahawwur Hussain Rana helped me to get Indian visa. I met him in a military school in Punjab province
* Sajid Mir & Major Iqbal were happy to see my Indian visa.Sajid Mir was guiding me on getting visas
* Major Ali introduced me to Major Iqbal of Pakistan ISI
* Sajid Mir (LeT Operative) was using the email ID chalchalo@yahoo.com to communicate
* Major Ali thought that I will be beneficial for gathering intelligence from India
* During interrogation I gave information to Major Ali that I'm holding a business office in India
* During my arrest, Major Ali came to interrogate me and I was having some Indian literature in my possessio
* I and retired major Abdur Rehman Pasha were arrested in Landi Kotal near Pak-Afghan border because I looked like a foreigner
*  2 attempts were made to attack Mumbai prior to 26/11, 1st attempt was made in Sept 2008 but boat hit rocks in the ocean, weapons &explosives lost but those on board survived. 2nd attempt to attack Mumbai made in October 2008, those involved in 1st attempt were involved in this as well, but attack failed.3rd and final attack on Mumbai was successful (26/11).
* All details except place of birth, date of birth, mother's nationality & passport number,were incorrect in my visa application
* After 26/11 Mumbai terror attacks I visited India on 7th March 2009 from Lahore to Delhi
* My 7 visits to India were directly from Pakistan and 1 from UA
* After Headley changed his name, within few weeks he visited Pakistan. Sajid Mir specified object of his intention before his first visit to India.
*  Sajid Mir asked Headley to take general video of Mumbai city.
* After receiving new passport Headley visited India eight times, out of 8 times he visited Mumbai 7 times. Headley's seven visits to India were directly from Pakistan and one from UAE.
* Local Indian boys were part of the LeT's Karachi set-up which was created to launch operations into India by using militants of Indian origin.
* All details except place of birth, date of birth, mother's nationality and passport number were incorrect in Headley's visa application.
Headly is currently in the custody of United States Federal Bureau of Investigation (FBI). He was sentenced to jail for 35 years in prison in January, 2013 for his role in Mumbai attacks.