101 people rescued from bonded labour in Bihar
NEW DELHI:  In a major intervention, National Human Rights Commission has got 101 people rescued from age-old bonded labour and ensured about their rehabilitation.According to an official statement released yesterday, the Commission has also ensured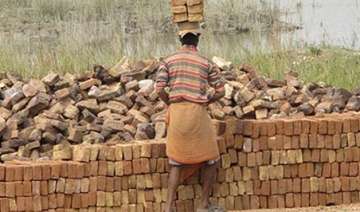 PTI
April 08, 2015 11:25 IST
NEW DELHI:  In a major intervention, National Human Rights Commission has got 101 people rescued from age-old bonded labour and ensured about their rehabilitation.
According to an official statement released yesterday, the Commission has also ensured that the labourers from 38 families in Madhubani district of Bihar are provided release certificates and relief under various social welfare schemes including some land towards their rehabilitation by concerned authorities.
The Commission has got two criminal cases registered against 18 errant employers in this connection at Police Station Arer under various sections of law on February 1.
Their past wages will be recovered from their employers, the Commission said.
"We have sent notices to Secretary, Ministry of Labour and Employment, Government of India, and Principal Secretary, Department of Labour and Labour Commissioner, Patna, Government of Bihar to submit reports on release of funds from the share of Centre in respect of 101 released bonded labourers as well as details about the remaining amount from the state government within six weeks," the Commission said in a statement.
It has sent a notice to local District Magistrate seeking a report on steps taken for rehabilitation of the victims and status of all the cases pending investigation with police and pending adjudication before the courts within six weeks.
"All the children of the rescued bonded labourers have been admitted to schools and 26 girls have been covered in Chief Minister's security scheme.
"In addition to this, families of the rescued bonded labourers have also been given benefits of Indira Awas Yojana, Indira Gandhi National old age pension scheme and disability pension. Girls of marriageable age of six families have been covered under the marriage scheme," the Commission said.
The Commission had taken action in this connection following a complaint from an NGO in December 2014; alleging over 38 families were being exploited under an illegal bonded labour system.
"These labourers were forced to work by their respective employers at their respective agricultural lands under 'Kamiya' bonded labour custom. The labourers were working since generations. They were not paid their statutory minimum wages, instead they received two kilograms each (husband and wife) of raw rice per day against their hard labour rendered.
"Most of the labourers belong to SC category and worked more than 10 hours a day. They were trapped in a customary bonded labour system in which they were not free to move out or to be employed elsewhere," the statement said.