11th February News in Nutshell: Important stories of the day
National News-Siachen braveheart Lance Naik Hanumanthappa diesLance Naik Hanumanthappa Koppad, who was battling for life after being buried under ice for six days in the Siachen glacier, passed away at RR Hospital here. He breathed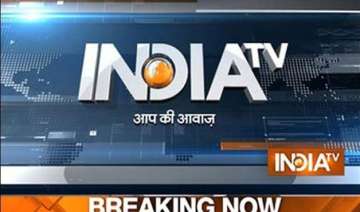 India TV News Desk
February 11, 2016 19:45 IST
National News-
Siachen braveheart Lance Naik Hanumanthappa dies
Lance Naik Hanumanthappa Koppad, who was battling for life after being buried under ice for six days in the Siachen glacier, passed away at RR Hospital here. He breathed his last at 11:45 am. Read More
Second round of odd-even to be implemented from 15 April; women exempted again
Delhi Chief Minister Arvind Kejriwal today announced that the second round of the fortnight road rationing 'odd-even' scheme will be implemented from 15th April in the national capital. The women have again been exempted from the scheme. Read More
Ishrat Jahan was a Lashkar suicide bomber, reveals David Headley
On the third day of his deposition, Pakistani-American terrorist David Coleman Headley told a Mumbai special court that Ishrat Jahan was a Lashkar suicide bomber. Read More
Sensex Slumps 800 Points, Nifty Settles at its Lowest Since May 2014
Stock markets closed at their lowest levels since May 2014. The Sensex slumped 807 points to close at 22,951.83 and Nifty plunged 239 points to shut shop at 6,976.35.
Afzal Guru event: Anti-India slogans at JNU campus, varsity orders probe
Following huge uproar from ABVP students over commemoration Parliament attack convict Afzal Guru's death anniversary in JNU campus, the varsity administration has ordered  a "disciplinary" enquiry into the matter saying saying any talk about country's disintegration cannot be "national". Read More
International News-
Nigeria: Two female suicide bombers kill 58 in attack
Two female suicide bombers on Thursday killed at least 58 at a camp for people made homeless by Boko Haram's Islamist insurgency in northeast Nigeria, emergency services, in the latest violence to hit the remote region.
South Korea protests and shuts down joint industrial park with North Korea
Under the gaze of armed soldiers, large white trucks streamed across the world's most armed border Thursday as South Korean workers began shutting down a jointly run industrial park in North Korea. Read More
IS shocker: 4 year old British boy dubbed as 'Jihadi Junior' blows ups spies in latest video
The dreaded terror outfit ISIS has hit a new low with its latest video that purportedly shows a 4 year old British boy blowing up four alleged spies in a car bomb. Read More
Business News-
After TRAI's ruling, Facebook's Free Basics turns into paid platform
Days after TRAI barred operators from charging different rates for Internet access based on content, Facebook has decided to make its controversial 'Free Basics' a paid platform. Read More
Interest Rate on NSC, PPF to Fall
Small savings schemes like National Savings Certificate (NSC) and Public Provident Fund (PPF) are likely to fetch lower returns, disappointing millions of people. Interest rates on these popular schemes are likely to fall because the government will revise rates on a quarterly basis starting April 1.
7.6% growth amid global turmoil is noteworthy: Finance Ministry
Terming the 7.6 per cent growth projection for current fiscal as "noteworthy and very significant" amidst global turmoil, Finance Ministry today said the government is keeping a close watch on developments and is prepared to deal with challenges. Read More
Entertainment News-
Virat-Anushka to Ranbir Katrina: The Celebes who Break Up in 2016
The year 2016 has started off on a quite unsavoury note for the tinselvile. While the entire world welcomed the New Year whole-heartedly, 2016 bought in a bad luck for the couples in the industry. Read More
Kangana Ranaut gives a befitting reply to Hrithik Roshan's mean tweet again!
Kangana Ranaut is one of the actresses in the industry who prefer wearing their heart on the sleeves. The diva is often targeted for speaking her mind out, be it about an issue or a celeb from B-town. Read More
Sports News-
Dhoni stings back: Skipper threatens Rs 100-crore defamation suit against Hindi daily
Just days after a Hindi daily Sun Star caught former team India manager and DDCA sports secretary Sunil Dev alleging that MS Dhoni, then Test captain, fixed the fourth match of the 2014 Test series against England in Manchester on camera in a sting operation, the charismatic limited overs captain has reportedly sent a legal notice to the publication asking a denial over the alleged match-fixing reports. According to a report in the Deccan Chronicle, Dhoni's lawyers, Dehi-based C&C Associates, have sent a nine-page legal notice which calls Sunil Dev's allegations "false propaganda" and an "attempt to defame Dhoni" and threatens to sue the daily if it fails to issue denials within the next 48 hours.
World T20: BCCI says India will provide complete security to all teams
BCCI secretary Anurag Thakur on Wednesday said "no country should feel insecure" about playing in India amid reports that Pakistan has proposed to play its matches in the upcoming World T20 at a neutral venue citing security concerns. Read More
West Indies likely to send a second-string team: World T20
West Indies is likely to send a second-string side to the World T20 as the top players failed to reach an agreement in their contract impasse with the West Indies Cricket Board (WICB). Read More