14 Naxals arrested in Chhattisgarh
Raipur: Fourteen Naxals including four women were arrested in two separate operations in the insurgency-hit regions of Chhattisgarh today, police said."Eleven cadres were apprehended after a gun-battle between security forces and ultras in Balrampur district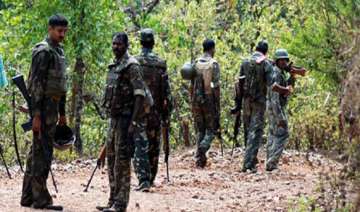 PTI
March 15, 2014 19:54 IST
Raipur:
Fourteen Naxals including four women were arrested in two separate operations in the insurgency-hit regions of Chhattisgarh today, police said.
"Eleven cadres were apprehended after a gun-battle between security forces and ultras in Balrampur district of Surguja division," a senior police official told PTI.
Acting on a tip off, a joint squad of CRPF and district police was on a combing operation in Lahsunpath forest within Shankargarh police station limits when rebels attacked them early morning.
However, they fled to the core forest when security forces retaliated, he said.
Later, security personnel launched an intense search in the forest around the encounter spot and nabbed eleven suspects, he said.