1762 Indians brought home from Yemen; another flight to land tomorrow
Mumbai: The Indian Air Force has so far brought 1762 Indians home from strife-torn Yemen, with another aircraft from Djibouti expected to land in Mumbai on Thursday morning."In a well-coordinated operation involving multiple agencies, IAF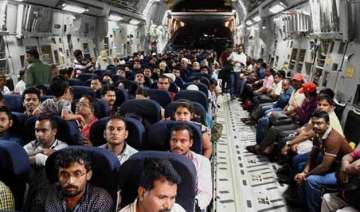 PTI
April 08, 2015 23:41 IST
Mumbai: The Indian Air Force has so far brought 1762 Indians home from strife-torn Yemen, with another aircraft from Djibouti expected to land in Mumbai on Thursday morning.
"In a well-coordinated operation involving multiple agencies, IAF deployed C-17 Globemaster III aircraft and it made eight shuttles from Djibouti to India and an additional shuttle from Kochi to Mumbai last night," IAF said in a release on Wednesday night.
It said the flight is expected to land here at 5:30 am on Thursday. IAF has so far evacuated 4500 people from Yemen to Djibouti. Yemen has been witnessing fierce battle between Saudi-led coalition and Shiite rebels, who have battled their way into various cities Yemen including in the former stronghold of President Abedrabbo Mansour Hadi who has fled overseas.
On its part, Indian Navy had pressed its ships 'Mumbai' and 'Tarkash' into evacuation efforts launched under 'Operation Raahat' and also diverted 'INS Sumitra' from its anti-piracy patrol in the region to facilitate the operation.