2.3 tonnes of 'Ganja' seized along Bangla border
Kolkata, July 15: In one of the major drug seizures along Indo-Bangladesh border in recent times, security agencies recovered 2.3 tonnes of 'Ganja' suspected to be a consignment for smuggling.The incident occurred yesterday afternoon when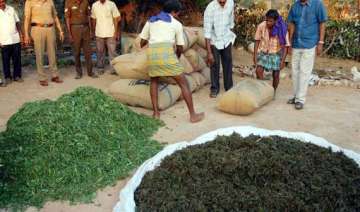 PTI
July 15, 2013 19:09 IST
Kolkata, July 15
: In one of the major drug seizures along Indo-Bangladesh border in recent times, security agencies recovered 2.3 tonnes of 'Ganja' suspected to be a consignment for smuggling.
The incident occurred yesterday afternoon when a patrol of the Border Security Force (BSF), along with sleuths of DRI, intercepted and seized a truck carrying the narcotic worth Rs 1.16 crore near border post Phansidewa in Ghoshpukur on national highway number 31, a senior official said.
The area is close to Indo-Bangladesh border in North Dinajpur, the official said.
Two Indians have been apprehended from the truck andhanded over to local police for further interrogation, the official added.