2 AI Express Pilots Taken Off Duty For Aborting Take Off At Singapore Airport
New Delhi, Jan 27: Two pilots of an Air India Express plane have been taken off duty pending investigation into an incident in which they aborted take-off at the last moment on the Singapore airport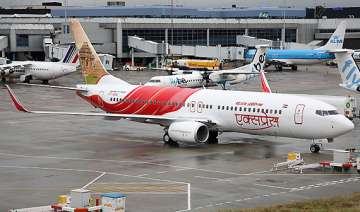 India TV News Desk
January 27, 2012 20:46 IST
New Delhi, Jan 27: Two pilots of an Air India Express plane have been taken off duty pending investigation into an incident in which they aborted take-off at the last moment on the Singapore airport runway, apparently due to "confusion" over clearance by the air traffic control (ATC). 

The incident occured at the Changi airport on Monday when the Boeing 737-800 with over 90 people on board came from the taxiway to the runway for take-off allegedly without getting the clearance from the ATC.

The take-off of the flight IX-681, on its way to Trichy from Singapore, was aborted as it had just started to roll, official sources said, adding the flight took off a few hours later for its destination.

While both the pilots have been de-rostered pending inquiry, the Directorate General of Civil Aviation and the airline itself have begun simultaneous probes, they said, adding that the Changi aviation authorities were also investigating the matter.

Confirming the incident, airline officials said it was caused due to "confusion" over take-off clearance by the ATC and "there was no danger to the aircraft or the passengers at any time."

Maintaining that the pilots did what the ATC told them to, that is aborting take-off, the sources said the aircraft had "not crossed the 'V-1' level speed" on the runway after which take-offs cannot be aborted.

After 'V-1', the aircraft gathers the maximum speed (say, more than 275 kms per hour) to take off. The speed is calculated on the basis of several factors including the runway length, weight of the plane, headwind, tailwind, airport elevation and the runway condition.