20 Indian mountaineers stuck at 18K ft desperately call for govt help
Hyderabad: 20 mountaineers from Andhra Pradesh and Telangana are stranded at 17,598 feet above sea level since five consecutive days of the Nepal earthquake and are desperately calling for help.The team took off on the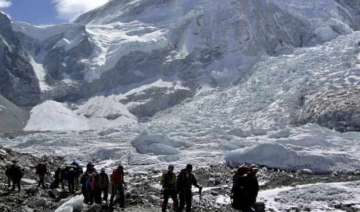 India TV News Desk
April 30, 2015 8:06 IST
Hyderabad: 20 mountaineers from Andhra Pradesh and Telangana are stranded at 17,598 feet above sea level since five consecutive days of the Nepal earthquake and are desperately calling for help.
The team took off on the hazardous expedition of Mt Everest from Hyderabad on April 16 but had to cut short the climb and take shelter at the base camp after the devastating 7.9 magnitude earthquake on April 25.
So far no help has reached them either from Chinese or Indian government while they are struggling to stay alive.
The team's leader Shekhar Babu spoke to Times of India daily and told that they are currently lodged on the northern face of the mountain that falls under Chinese territory. "Our fate, therefore, is in the hands of Chinese authorities who, we are told, are planning to drive us down to Lhasa or Chengdu -- the nearest airbases. Till there is some clarity on the matter, we are stranded here", he said.
All the primary sources of communication with the team are dead except the only weak Chinese network and a satellite phone at the base camp with the help of which they are connecting with their people. There is no clue that when will help reach them.
Babu, a recipient of Tenzing Norgay National Adventure Award, further told that all the roads have been closed and even if they reach Kathmandu it would be of no help to them as the airport is not taking any inbound passengers. He said, "We have to go either to Beijing or Shanghai to fly back to India".
Babu further told that there was a huge avalanche that covered everything in snow for as they were able to see. He said, "Now, there are avalanches happening every other hour. We fear that there might be some structural changes in the mountain's geography, thus making our trek down even more risky".
As per a report in Times of India, the team consists of members as young as 26-year-old and they went on this trip organized by Transcend Adventures.
While recounting his fears, he told about the first time he got to know about the earthquake while he was in base camp. The seasoned mountaineer said, "There was widespread panic among climbers after the first few tremors. I was sitting in the chair in our tent when I first felt it. I thought there might have been some problem with the spring. But when the curiosity grew, I realised it was an earthquake. When I stepped out of the tent I saw a huge rock crumble on a ridge beside the base camp. Once it stopped, I called up the Advanced Base Camp (ABC) and when they said it was an earthquake, my worst fears had come true".
Currently, the only support that the team has is the 60-day-supply that they carried for the entire expedition however, they fear that even that may also end soon.