2G : Raja Tells Court, PM, Chidambaram Knew About Spectrum Allocation
New Delhi, Jul 25 :  Former Telecom Minister A Raja today sought to rope in Prime Minister Manmohan Singh and the then Finance Minister P Chidamabaram in the 2G case, telling a court the issue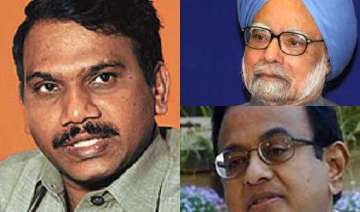 PTI
July 25, 2011 17:08 IST
New Delhi, Jul 25 :  Former Telecom Minister A Raja today sought to rope in Prime Minister Manmohan Singh and the then Finance Minister P Chidamabaram in the 2G case, telling a court the issue of sale of equity by spectrum licencees was discussed with them.
Defending himself against corruption charges in 2G scam, the 47-year-old DMK MP also submitted before Special CBI Judge O P Saini there was nothing wrong in his decision of not auctioning 2G spectrum and that he was merely following the policies pursued by his predecessors and the NDA government. 
Senior Advocate Sushil Kumar appearing for Raja, now behind bars, said that when Home Minister Chidambaram was the Finance Minister he had told the Prime Minister that dilution of shares by the accused licencees to attract FDI did not amount to sale of licence.
Arguing that sale of equity was not sale of licence, Kumar said Raja cannot be accused of corruption in the controversial 2G spectrum allocation.
"The matter (about sale of equity by spectrum licencees) was discussed between the Prime Minister and the then Finance Minister (P Chidambaram).  "The then Finance Minister who is now Home Minister had said in front of the Prime Minister that dilution of shares does not amount to sale of 2G licence as per the corporate law," asserted Sushil, who even said "Let the Prime Minister deny this."
Raja further said, "When sale of equity does not amount to sale of licence, there in no question of earning profit. How can (then) be corruption there in this regard?" Kumar said if Raja is being prosecuted for following a certain policy then all Telecom ministers since 1993 are liable to be prosecuted and should be in jail along with him as they too followed the same policy.
"If policy pursued by me was wrong, then all former Telecom ministers since 1993 should also be in jail with me (Raja)," the counsel said while opposing framing of charges against Raja.
On the action by his predecessors, Raja said, "Telecom Minister Arun Shourie distributed 26 licences while Dayanidhi Maran distributed 25 and I (Raja) distributed 122 licences.  Numbers make no difference, however, it is to be noted that none of them auctioned the spectrum. 
"If they had done no wrong, why am I being questioned?  Let them deny that they have not done what I did. I was just following the 2003 Cabinet decision that is not to auction 2G spectrum. If I am following the law, I am not liable to be prosecuted. Infact, I should be rewarded," he added. 
Raja also questioned CBI's authority to decide on the loss to the state exchequer due to the 2G Spectrum allocation.  "Who is CBI to decide the loss? Let the Government say so," he said.
Raja also argued that sale of equity by way of UAS licence can be made directly to a company or to its holding company.
"The CBI, however, is maintaining that when DB Realty gave its shares (in Swan Telecom) to bring in money, it amounted to sale and so is the case with Unitech (Wireless).  But, when Tata Tele services give its shares to bring in FDI, it, according to the CBI, does not amount to sale," Raja contended.
Unitech sold 67 per cent equity for Rs 6,120 crore whereas Tata Tele Services got Rs 13,973 crore by selling only 27 per cent equity, he said, adding that even then Tata was not accused by the CBI of committing any offence.
"Who is a better businessman - Sanjay Chandra of Unitech or Ratan Tata of Tata Tele Services? And then they say we kept them (Tata) out of Delhi circle," Raja said.  Nowhere in the entire transaction has Sanjay Chandra been named as a conspirator, argued Raja.  "It is just that a shade of suspicion by way of a loan transaction has been planted by the CBI in respect of Sanjay Chandra.
"The only sin of DB Realty and Unitech, who are actually realty eagles and developers, is that they have got good contacts and brought money from abroad," he added.  Raja also questioned CBI's rationale for questioning the profits earned by Unitech Wireless and Swan Telecom by sale of shares when S-Tel earning of Rs 2,230 crore has gone unchallenged by the agency.
"S Tel also earned Rs 2,230 crore by diluting its shares but that was not considered as sale by the CBI then why only Unitech Wireless and Swan Telecom are caught," he said.  While defending his policy as telecom minister, Raja submitted that it is because of his policy that mobile phone call rates came down and they became affordable to even a 'rickshaw wala'.
"It was my obligation to social justice that every man on the street should have a mobile phone. I am a servant of my people and I made the call rates of mobile phone so cheap that even a 'rickshaw wala' or a maid servant can be seen using it," Raja said.
Raja, who was arrested on February 2 for his alleged role in the 2G scam, today began his arguments opposing charges of cheating, forgery and criminal conspiracy against him. CBI has estimated that there was a loss of Rs 30,000 crore to the state exchequer due to Raja's 2G policy.  CBI had begun its arguments on framing of charges against Raja and 16 others, including three telecom firms, from July 21 and had completed its arguments on July 23.
All the 14 accused including DMK MP Kanimozhi are presently lodged in Tihar Jail.
In Delhi, Home Minister P Chidambaram clarified that the only issue examined by him as Finance Minister in 2007 and by the Prime Minister was if the two new telecom licencees Swan and Unitech were divesting i.e. selling their stake or diluting shares through issue of fresh equity.  He also said that the telecom ministry consistently wanted the entry fee to remain at 2001-levels but the Finance Ministry always wanted it to be rediscovered through an auction.
The Minister was speaking to PTI journalists shortly after former Telecom Minister A Raja had told a Delhi court hearing the 2G case that Chidambaram, then Finance Minister, had told Prime Minister Manmohan Singh that dilution of shares by 2G licencees to attract FDI did not not amount to sale.  Chidambaram declined to comment on Raja's testimony because he would not comment on a statement reportedly made in the court.
He said that it was found that the spectrum was not sold in either of the two cases and foreign partners were inducted by way of issue of fresh shares.
"They (Swan Telecom and Unitech) were inducting foreign partners or new partners. They had got spectrum and they had (telecom) licence. They were now inducting new partners.  "I think, the DoT (Department of Telecom) had approved the induction of new partners," he said.  This was the issue that was examined by the Finance Ministry, he said.
"The question was whether it was divestment (sale) of promoter's equity or dilution of equity by issue of fresh shares... This was examined by the Ministry of Finance.  "Both were cases of dilution of equity by issue of fresh shares. The Prime Minister wanted to know if it was a case of dilution of equity or divestment.  "I do not think there was any sale of spectrum. The spectrum was allocated to the company which got licence and the spectrum remained with the company. The company issued fresh shares," he said.
Chidambaram said that what was discussed in 2007 was "how did the new partner get inducted. The new partner got inducted by way of fresh equity."
Asked why no telecom company till date had paid for 2G spectrum since 2001, Chidambaram said: "The companies got start-up spectrum allocated along with the licences." "The DoT's stand was that the entry fee should be the same as what was discovered in 2001. The Ministry of Finance said that the entry fee should be rediscovered through an auction." Consistently, the DoT was of the view that there was no change warranted in the entry fee, but MoF always said that they must auction.
In Delhi,  Telecom Minister Kapil Sibal today hit out at Opposition BJP for demanding the resignation of Prime Minister Manmohan Singh and Home Minister P Chidambaram by treating the argument of former telecom minister A Raja in 2G scam case in the court as evidence against the government.

His comments came after BJP president Nitin Gadkari demanded resignation of Singh and Chidambaram stating that what Raja had said in court showed that the top leadership of the government was aware of all 2G transactions.  Raja told a Delhi court hearing the 2G case that Chidambaram, then Finance Minister, had told the Prime Minister that dilution of shares by 2G licencees to attract FDI did not not amount to sale of licence.  Sibal told a press conference it was "unfortunate" that President of a national political party like BJP demanded resignation on the basis of arguments made by Raja in the court.

"He (Gadkari) should have consulted Arun Jaitley (senior BJP leader) or some other lawyer".  On the allegations that two new telecom licencees—Unitech and Swan—divested their equity at premium, the Telecom Minister asserted that "there was no disinvestment and it was only dilution of stake by bringing in additional equity".

Asked whether the Prime Minister knew about the dilution of equity by Unitech and Swan, Sibal said "yes, the Prime Minister knew that it was dilution of equity" by way of issuing new shares and there was no divestment of promoters' equity.
He also took a dig at BJP for not acting against Karnataka Chief Minister B Yeddyruppa who is facing allegations of corruption.

"The way these issues are being raised by them (BJP) ahead of Parliament session, it seems thay have no other issue and they are adopting these tactics to disrupt the session", Sibal said. PTI