2nd unit of Kudankulam nuke power plant to be operational soon
Chennai:Work is underway for the second unit of Russia-assisted Kudankulam Nuclear Power Plant (KNPP) in Tamil Nadu and will be operational soon, a senior Russian Consulate official here said yesterday."The second unit will be operational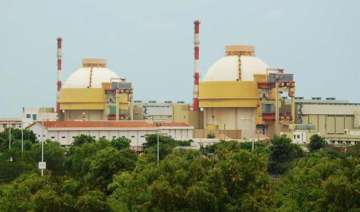 PTI
April 07, 2015 7:27 IST
Chennai:Work is underway for the second unit of Russia-assisted Kudankulam Nuclear Power Plant (KNPP) in Tamil Nadu and will be operational soon, a senior Russian Consulate official here said yesterday.
"The second unit will be operational soon and work is on for that," Vice-Consul (Cultural), Consulate General of the Russian Federation, Mikhail Y Gorbatov said.
As regards the proposed units three and four, preliminary work had begun, he said in brief remarks at a book release function.
India and Russia were strategic partners and ties betweenthe two countries would continue to grow strong and be mutually beneficial, he said as he insisted that Moscow is not against any help and cooperation New Delhi is receiving from other countries.
"We are not against India getting help and cooperation for the benefit of Indian economy from other countries," he said, without elaborating further.
Praising the time-tested Indo-Russian ties, Secretary General of the Indo-Russian Chamber of Commerce and Industries, P Thangappan said: "Russian technology is always cost effective, safe and secure."