3 suspected IM operatives arrested, huge cache of explosives
Bengaluru: A suspected terror module of banned Indian Mujahideen was claimed to have been busted today with the arrest of its three alleged operatives and seizure of a huge cache of explosives, even as their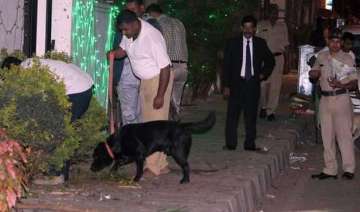 PTI
January 08, 2015 21:34 IST
Bengaluru: A suspected terror module of banned Indian Mujahideen was claimed to have been busted today with the arrest of its three alleged operatives and seizure of a huge cache of explosives, even as their possible role in the recent Bengaluru blast that killed a woman and injured three others was being probed.
The arrests were made during simultaneous raids in the city and at Bhatkal in Uttara Kannada district during which a "substantial" quantity of explosive substances used for making Improvised Explosive Devices were seized, Bengaluru Police Commissioner M N Reddi told reporters here.
Ammonium nitrate, detonators, electronic timer devices, digital circuits, circuit making material, PVC pipes, gel based explosive material and fuel oil were seized, he said.
The communication equipment found is being examined to find out whether they could be an "additive" for the explosions device, he said.
Reddi gave the names of the arrested as Syed Ismail Aafaque, aged 34, Saddam Hussein, 35, and Abdus Sabuur, 24, an MBA student, saying they were found to be in regular interaction with other members of the banned organisations.
Intial information showed that they were operating under the direct instructions of a handler in the higher rungs within their organisation, he said.
To a query, he said, there was no "direct link" of the arrested alleged IM operatives to the December 28 blast on Church Street here, but their suspected role was being probed.
"Prima facie we do not see connection with the Church street blast. However nothing could be ruled out at this stage.