4 TRS MLAs to visit Israel as 'progressive farmers'
Hyderabad : Telangana government has decided to send an eight-member team, including four MLAs of the ruling TRS with a tag of "progressive farmers", to attend an agriculture exhibition and field trips in Israel.The decision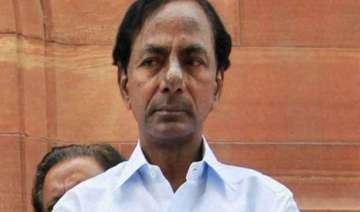 PTI
April 21, 2015 20:07 IST
Hyderabad : Telangana government has decided to send an eight-member team, including four MLAs of the ruling TRS with a tag of "progressive farmers", to attend an agriculture exhibition and field trips in Israel.

The decision has kicked up a row with the Opposition BJP questioning the move. Besides these MLAs, according to a Government Order (GO), the team comprises V Praveen Rao, Registrar and Special Officer at Professor Jayashankar Telangana State Agricultural University (PJTSAU), L Venkatram Reddy, In-charge Commissioner of Horticulture Department, G Mohan Reddy, PS to Agriculture Minister and P Bhaskar Reddy, progressive farmer-cum-Chairman of PACS (Primary Agriculture Cooperative Society).

The GO issued on Monday said the Government has given them nod to visit Israel for attending "19th International Agriculture Exhibition Agritech 2015" in Tel Aviv from April 27 to 30, and also for visits to orchards green houses and open cultivation plots up to 4-5-2015".

The order does not mention Eanugu Revinder Reddy, Kalvakuntla Vidya Sagar Rao, Gangula Kamalakar and Dasari Manohar Reddy as MLAs but tags them as "progressive farmers". Meanwhile, the Opposition BJP attacked the TRS government over the move.

"Four TRS MLAs cleared for a trip to Israel as 'progressive farmers' by TRS Government. We want to know if Chief Minister KCR (K Chandrasekhar Rao) has not found any progressive farmers in entire Telangana for this state-sponsored trip?" asked Krishna Saagar Rao, spokesperson of Telangana BJP.