47 districts in MP receive above normal rains in June
Bhopal, Jul 5: Above normal rains have been registered in 47 out of 50 districts of Madhya Pradesh from June one to July four this year.Stating this, an official release said here today that normal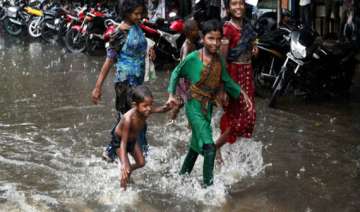 PTI
July 05, 2013 14:01 IST
Bhopal, Jul 5: Above normal rains have been registered in 47 out of 50 districts of Madhya Pradesh from June one to July four this year.
Stating this, an official release said here today that normal rainfall has been registered only in Anuppur, Balaghat and Singrauli districts.
Flood situation has cropped up in some districts due to heavy rains during last 24 hours.
Two youths each have been washed away in floods in Dewas and Ratlam districts.
Betwa river is in spate at Hoshangabad and flood waters have entered Ashta tahsil headquarters in Sehore district.
Sehore-Indore road has been cut off and 22 villages have been cut off from rest of the state. Due to inundation of some low-lying areas in Indore, people from there have been sheltered in a school.
As many as 5,468 houses have suffered partial damage and crops have been affected in 24,638 hectaresin Sagar district.
Excessive rains have killed 4 persons and 37 cattle heads. Partial damage has been suffered by 450 houses in Vidisha district. In Basoda tahsil, 400 persons have been kept in two relief camps.