5,000 Gayatri Parivar volunteers in Uttarakhand
Haridwar, July 6: More than 5,000 volunteers of the Gayatri Parivar spiritual group are engaged in relief work in Uttarakhand, its head said Saturday.The group has also decided to donate all the money received on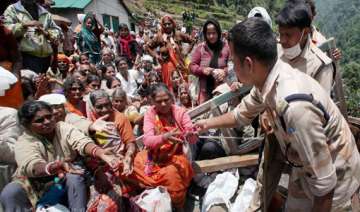 IANS
July 06, 2013 13:24 IST
Haridwar, July 6:
More than 5,000 volunteers of the Gayatri Parivar spiritual group are engaged in relief work in Uttarakhand, its head said Saturday.
The group has also decided to donate all the money received on Guru Poornima day for the victims of the natural disaster in the state, Pranav Pandya said.
Shantikunj, the group's headquarters here, has sent thousands of food packets including items of daily necessities to the thousands displaced by last month's floods and landslides in Uttarakhand.
The group will concentrate on villages that have suffered the most, and help in rebuilding damaged and collapsed schools, buildings and houses of the poor, Pandya said.