50 companies forces for panchayat polls in W Midnapore
Midnapore (WB), July 10: Fifty companies of security forces arrived in West Midnapore district for the panchayat polls, including the 'jangal mahal' pocket.Superintendent of Police Sunil Chowdhury said 2,000 booths have been marked as sensitive.As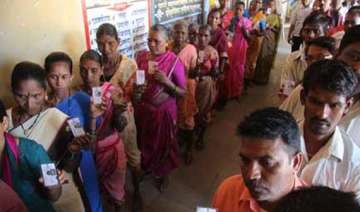 PTI
July 10, 2013 9:41 IST
Midnapore (WB), July 10
: Fifty companies of security forces arrived in West Midnapore district for the panchayat polls, including the 'jangal mahal' pocket.
Superintendent of Police Sunil Chowdhury said 2,000 booths have been marked as sensitive.
As per State Election Commission directive armed guard will be posted in every booth, which included the jangal mahal belt earlier stronghold of Maoists.
An estimated 13,000 personnel of West Bengal police will be among those deployed.