Beware! Now you'll have to pay Rs 5000 fine for burning garbage in open
New Delhi: The National Green Tribunal (NGT) on Tuesday decided to impose a fine upto Rs. 5000/- if any individual is found burning waste, plastic etc in open areas across Delhi and National Capital Region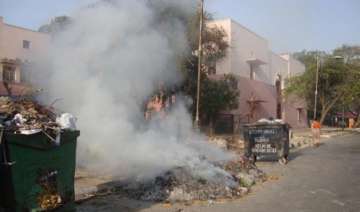 India TV News Desk
April 28, 2015 16:47 IST
New Delhi: The National Green Tribunal (NGT) on Tuesday decided to impose a fine upto Rs. 5000/- if any individual is found burning waste, plastic etc in open areas across Delhi and National Capital Region (NCR).
In a major step to curb pollution, NGT had earlier passed directions, ordering confiscation of petrol vehicles older than 15 years and diesel vehicles older than 10 years from the NCR to check the alarming pollution levels in the national capital.
However the centre moved the NGT seeking stay on its ban order on older vehicles in Delhi, saying that it would affect public and essential services.
DPCC and Delhi State Industrial and Infrastructure Development Corporation Ltd (DSIDC) were also asked to submit a complete plan regarding the establishment of a hazardous waste disposal unit in Bawana and Narela by the NGT.
A World Health Organisation (WHO) report termed New Delhi as the most polluted city based on the air quality levels measured in 2014 in 1600 cities across the globe.
It showed that the air pollution in the national capital is 10 times higher than acceptable standards.