87% talukas in Gujarat do not have blood banks: CAG
Gandhinagar: The Comptroller and Auditor General (CAG) has noticed 'deficiency' in functioning of blood banks in Gujarat, pointing out that 87% of state talukas do not have a single blood bank."Audit observed that government blood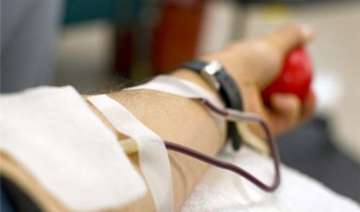 PTI
April 01, 2015 17:39 IST
Gandhinagar: The Comptroller and Auditor General (CAG) has noticed 'deficiency' in functioning of blood banks in Gujarat, pointing out that 87% of state talukas do not have a single blood bank.
"Audit observed that government blood banks were not available in eight out of 26 districts (31%), 194 out of 224 talukas (87%) in the state," said the CAG report on general and social sector for 2013-14.
The CAG report, which was tabled before the Gujarat Assembly yesterday, said that the tribal district of Narmada does not have a single blood bank either in government, charitable or in private sector. The eight districts without blood banks are Anand, Amreli, Bharuch, Dahod, Kheda, Narmada, Navsari and Tapi, said the CAG report.
As many as 12 districts of Gujarat with population ranging between 2.28 lakh and 31.16 lakh were having only one government blood bank each. The districts are Banaskantha, Bhavnagar, Dang, Gandhinagar, Junagadh, Kheda, Mehsana, Panchmahal, Porbandar, Sabarkantha, Surendranagar and Valsad, it said.
Not only that, the blood storage centres were not set up in 83 out of 126 Community Health Centres (CHCs) identified by state government, the report said, adding that this might result in non-availability of timely access to safe blood and blood products as envisaged in National Blood Policy (NBP).
The Centre had formulated NBP in 2002 for elimination of transfusion transmitted infection and for provision of safe and adequate blood transfusion services to the people through voluntary and non-remunerated blood donors.
However, as per the CAG report, the NBP norms are not followed in Gujarat and instances of deficient functioning of blood banks have been noticed due to lack of inspection and lack of constant monitoring by the state government.