Bihar couple stages nude protest against police inaction
Patna: Angry and frustrated after police refused to register their complaint, a couple in Bihar's capital city of Patna on Sunday protested in nude at Kargil Chowk to seek justice, police said.Neeraj Kumar and his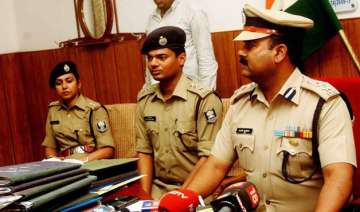 IANS
April 12, 2015 17:16 IST
Patna: Angry and frustrated after police refused to register their complaint, a couple in Bihar's capital city of Patna on Sunday protested in nude at Kargil Chowk to seek justice, police said.
Neeraj Kumar and his wife Priti Devi along with three minor children protested nude. They are residents of Makhdumpur in Jehanabad district.
"We were forced to take it to streets and chose for nude protest to seek justice after three police stations refused to register our complaint," Neeraj told media persons after local police detained him and his wife.
Neeraj said that after his elder brother attacked and beat his wife, which led to her head injury, he approached Makhdumpur police station to register an FIR but police officials turned them away, saying it was a case of neighbouring Tehta police station.
"I went to Tehta police station and my case was referred to Patna. My wife was admitted to Patna Medical College and Hospital for treatment. After she recovered, we went to a nearby police station that again refused to register a case and this angered us," he said.
The nude protest led to the gathering of hundreds of people. This prompted police officials to stop and disperse the people. Later, the couple was brought to the office of Senior Superintendent of Police Jitendra Rana, who assured them of justice.