A P Singh's resignation accepted but questions remain
New Delhi: The sudden resignation of former CBI Director A P Singh, who had come under cloud following his alleged links with the controversial meat exporter Moin Qureshi, has been accepted by the President but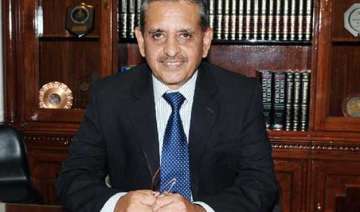 PTI
January 15, 2015 18:22 IST
New Delhi: The sudden resignation of former CBI Director A P Singh, who had come under cloud following his alleged links with the controversial meat exporter Moin Qureshi, has been accepted by the President but questions remain over his decision to quit as member of the UPSC.  
Singh had put in his papers last week claiming that the special court in Mumbai had pointed fingers at him while discharging BJP President Amit Shah on the ground that the CBI case in Sorabuddin fake encounter killings was "politically" motivated.
When contacted, Press Secretary to the President Venu Rajamony said "the President has accepted his resignation." The 62-year-old 1974-batch IPS officer enjoyed protection from removal from UPSC except under the difficult impeachment proceedings in Parliament but the timing of his action has raised several eyebrows.
His resignation has fuelled speculation whether it has anything to do with the proposed move of Enforcement Directorate to register a case against Qureshi for alleged violation of FEMA.
Singh's trouble started early last year after his name was linked to Qureshi, who was facing cases of Income Tax department for alleged alleged hawala funding and tax evasion.  Singh and his wife had been served an Income Tax notice last year asking them to give details about their credit card transactions and recently he was asked to submit his property details.
Interestingly, Narendra Modi as Prime Ministerial candidate had attacked Qureshi and promised a quick probe into his alleged dealings.
Singh's association with Qureshi came for severe criticism before the Supreme Court in October last year when Attorney General Mukul Rohatgi had referred to Blackberry Messages and telephonic conversations between the two.  "It is unbecoming of a post he (Singh) had held. I am pained to say that this is the state of affairs of an organisation on which the court relies upon," he had said in the apex court without naming Singh.  
In a press statement, Singh today maintained that he submitted his resignation as UPSC member to the President last week and he was yet to get a formal acceptance letter.  "The reasons for my resignation are given in my resignation letter to the President. Since it is a confidential document I am unable to share the details with the press.
"The last one year has put me and my family under tremendous stress for reasons which are in the public domain.  I feel that it is important for me and the family to move on and I intend to devote more time with my children and grand children," he said without making any reference to the Qureshi controversy that has haunted him.
"After a sufficient gap I will consider future options," he added.