Accused In Bhanwari Devi Case Arrested By Pune Police
Pune, Jan 4: The city crime branch today arrested Bishnaram Bishnoi, one of the accused in the Bhanwari Devi disappearance case, from Lonavala near here, police said.The accused was found at an industrial warehouse in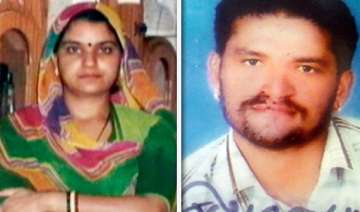 PTI
January 04, 2012 22:53 IST
Pune, Jan 4: The city crime branch today arrested Bishnaram Bishnoi, one of the accused in the Bhanwari Devi disappearance case, from Lonavala near here, police said.

The accused was found at an industrial warehouse in Lonavala during the combing operation launched by the police last night following tip-off by the CBI, Pune police commissioner Meeran Borwankar said here.

26-year-old Bishnoi, allegedly involved in disposal of the victim's body, was arrested on the charges of criminal conspiracy and abduction under Indian Penal Code.

Bishnoi, who was produced in a court after the arrest, has been sent to a two-day transit custody, and would be handed over to the Jodhpur police.

The accused was a notorious criminal, wanted in various criminal cases in Rajasthan, it was stated.

Bhanwari Devi, a nurse, went missing from Jodhpur's Bilara area on September 1.