Actor Paresh Rawal replaces Advani loyalist Harin Pathak from Ahmedabad seat
New Delhi: In what could stoke fresh controversy in BJP after the row over L K Advani's ticket, the party today replaced his loyalist and sitting MP Harin Pathak with actor Paresh Rawal from Ahmedabad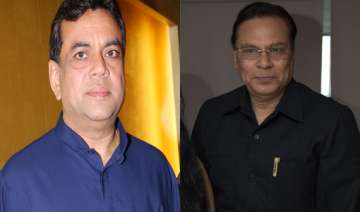 PTI
March 22, 2014 23:40 IST
New Delhi:
In what could stoke fresh controversy in BJP after the row over L K Advani's ticket, the party today replaced his loyalist and sitting MP Harin Pathak with actor Paresh Rawal from Ahmedabad East Lok Sabha seat.
In the list of fresh nine candidates announced today, Rawal's name figured for the Ahmedabad East constituency, a seat being earlier considered for Narendra Modi himself.
The BJP also decided to field state office in-charge of the party, Alok Sanjar, from Bhopal seat, after party veteran Advani decided to contest from Gandhinagar seat.
The Bhopal seat was vacated after senior party leader from the state, Kailash Joshi, quit in favour of Advani.