Adarsh Society Did Not Submit NOC From Army, Navy To MMRDA, Says Govt
Mumbai, Jan 3: The controversial Adarsh Housing Society had not submitted a No Objection Certificate (NOC) from the Army or Navy, giving clearance to construction of the building from security point of view, to the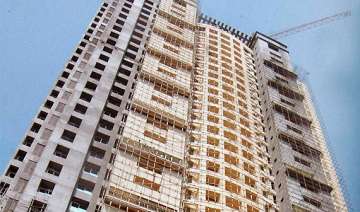 PTI
January 03, 2012 21:35 IST
Mumbai, Jan 3: The controversial Adarsh Housing Society had not submitted a No Objection Certificate (NOC) from the Army or Navy, giving clearance to construction of the building from security point of view, to the MMRDA, a senior government official told an inquiry commission today.

"No NOC from the Navy or Army was submitted by the society.

Till today the Mumbai Metropolitan Region Development Authority (MMRDA) has not received any letter from the Defence Ministry stating that it has no objection for allowing construction of a multi-storey building on the land in question," C Y Khandare, senior town and country planning officer, MMRDA, said while deposing before the two-member inquiry commission.

Khandare was being cross-examined by the counsel for the Ministry of Defense Aniket Nikam.

The MMRDA official said that on July 11, 2005 a letter was sent to the architects of Adarsh Society asking them to submit an NOC from the Defense Ministry.

"A week later the architect of the society wrote back to the MMRDA giving an undertaking to comply with the requirement of NOC," Khandare said, adding that no letter has been received from the society as yet.

Asked by Nikam as to why then construction commencement certificates were issued to the society from time to time, Khandare said there is no provision in DCR requiring a society to obtain NOC from Army or Navy.

"However, the NOC was sought from the society by MMRDA by way of additional precaution," Khandare said.

He further claimed that the letter issued by Colonel S S Jog to the Collector of Mumbai on April 5, 2000 did not speak of no objection from the Defence from security point of view and hence the society was asked to submit NOC.