AIIMS Entrance Test Scamsters Were Charging Rs 25-35 Lakhs, Court Told
New Delhi, Jan 10: Five youths, including a doctor and an MBBS student, arrested for allegedly leaking post-graduate medical entrance test papers and helping some candidates by providing answers over mobile phone and bluetooth, were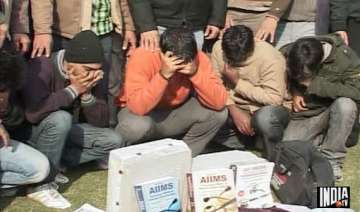 PTI
January 10, 2012 18:03 IST
New Delhi, Jan 10: Five youths, including a doctor and an MBBS student, arrested for allegedly leaking post-graduate medical entrance test papers and helping some candidates by providing answers over mobile phone and bluetooth, were today remanded to police custody for seven days by a Delhi court.

Additional Chief Metropolitan Magistrate (ACMM) Amit Bansal remanded the accused to police custody till January 17 saying their custodial interrogation is required to unearth the entire conspiracy.

"The allegations against the accused persons are that they, under a criminal conspiracy, leaked and tried to crack the entrance examination of AIIMS. The seizure memos of the electronic items and the question paper is also on record. 

"Keeping in view, the facts and circumstances of the case and the submissions of the investigating officer (IO), further custodial interrogation of the accused is required to unearth the entire conspiracy and to recover the amount etc," said the ACMM.

The police said accused Mohit Chaudhury (23), a second year MBBS student of an Ujjain medical college, was the "kingpin" of the racket and conspired with other accused Amit (23), who was appearing for entrance test, two MBAs Kapil Kumar (27) and Krishan Pratap (27) and Bhishma Singh (27), a graduate who allegedly helped the gang in using computers. 

Seeking police remand of the accused, the IO said apart from Delhi, the accused have to be taken to Nagpur, Kolkata, Mumbai, Chandigarh, Patna and other places to crack their module.]

The police said the accused were charging Rs 25-35 lakhs from candidates for leaking question papers and cracking the exam and their other accomplishes have to be arrested as well.