Aim to be first to respond to crises in neighbourhood: Defence minister
New Delhi: As India launched 'Operation Maitri' to support the quake-relief efforts in Nepal, Defence Minister Manohar Parrikar today said that the aim of the government is to be the first to respond to any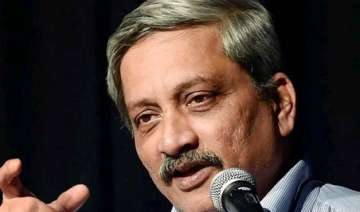 PTI
April 26, 2015 17:04 IST
New Delhi: As India launched 'Operation Maitri' to support the quake-relief efforts in Nepal, Defence Minister Manohar Parrikar today said that the aim of the government is to be the first to respond to any crisis in the neighbourhood and to do so in a "quick span of time".  
He said that the country has always helped other nations in times of crisis and the difference now with the Narendra Modi government at the helm was that such efforts were initiated "very swiftly".
Parrikar said that while over 500 Indians have been evacuated so far from Nepal, another 1,500 would be brought back today via civil and Indian Air Force aircraft.  "India is a large country in the neighbourhood and we have responded in a quick span of time to a neighbouring country's need, be it Nepal or the Maldives," he said, adding that the government aims to be the first responder.  
Noting that India has always helped other countries, Parrikar said that "the difference this time is that there is a new government here and rescue efforts were initiated very swiftly".
Interacting with journalists at the Rashtrapati Bhavan on the sidelines of a Defence Investiture Ceremony, the minister underlined that the first few hours are the most important in rescue operations.
Asked if strategic reasons had seen India rushing aid to Nepal in such a big way, he said, "It is more than strategic.  India shares long cultural and family ties with Nepal. We are obligated to help the country in their hour of need." The minister said that neighbouring countries have started feeling comfortable with Indian again.
"It is important for the neighbours to get comfortable with us and it is happening again now. When the Maldives faced a water crisis, we moved swiftly. When the runway in Kathmandu got blocked due to an accident, we responded quickly to help them.
"In Yemen too, the government moved quickly and evacuated not just Indians but also around 1,200 foreigners," Parrikar said.
Parrikar said that three people from the forces who know the local language have been deployed in Nepal to coordinate the rescue operations.
He said he has also directed the army to work with the local administration in Bihar, Uttar Pradesh and other affected states to carry out rescue and relief operations.  "Be it abroad or in a domestic crisis, the government will respond quickly," he said.
Parrikar said that around 1.6 lakh ex-servicemen are based in Nepal and added that the Army operation in the neighbouring country would be longer for the same reason and directions have been given to use resources from the welfare fund.  
Meanwhile, President Pranab Mukherjee presented Gallantry Awards and Distinguished Service Decorations today at the Defence Investiture Ceremony-II at Rashtrapati Bhavan.  Among those who got the gallantry award was Subedar Ajay Vardhan, who won the Kirti Chakra (Posthumous).
The citation said that he disregarded his own safety and killed two terrorists while evacuating fellow soldiers during an operation at the Line of Control in Jammu and Kashmir.  Mushtaq Ahmad, a constable with the J-K Police, received the Shaurya Chakra (Posthumous) for laying down his life while rescuing others as he kicked away a grenade that was lobbed at security personnel during an operation against terrorists.  
Lt Commander Kapish Singh Muwal was given the Shaurya Chakra (Posthumous) for saving the lives of 94 crew members of the ill-fated INS Sindhuratna, the submarine which had seen a fire break out on board in 2014 when it was at sea off Mumbai for routine training and inspection.
Sepoy Vikram was awarded Shaurya Chakra (Posthumous) along with paratrooper Balvinder Singha and Lt Col Sankalp Kumar, both posthumous.