Alert sounded on Indo-Nepal border in view of Independence Day
Lucknow:  An alert has been sounded to maintain utmost vigil, specially in the areas of Uttar Pradesh on the Indo-Nepal border, to thwart any infiltration bid in view of Independence Day."An alert has been sounded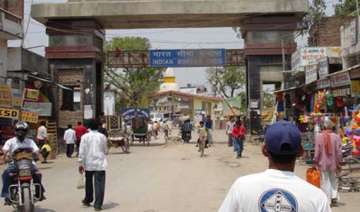 PTI
August 15, 2013 9:27 IST
Lucknow: 
An alert has been sounded to maintain utmost vigil, specially in the areas of Uttar Pradesh on the Indo-Nepal border, to thwart any infiltration bid in view of Independence Day.
"An alert has been sounded to keep an eye on the activity of anti-national and anti-social elements on Independence Day, specially in the districts adjoining Nepal," IG law and order R K Vishkarma said.
Anti-sabotage teams have been deployed at all important places like airports and railway stations, Vishkarma said adding that sensitive districts where alert has been sounded include state capital Lucknow, places of religious importance, Mathura oil refinery and Narora nuclear plant.  Commandos would be deployed and security arrangements stepped up wherever required, he said.
Responding to a question, Vishkarma said the border with Nepal was sensitive as it has often been used by anti-national elements to cross over.