Allahabad University shut till Monday in wake of violence
Allahabad, Apr 27: The University of Allahabad has been closed till Monday in the wake of clashes between police and students agitating over the issue of eviction of hostellers that left several persons injured and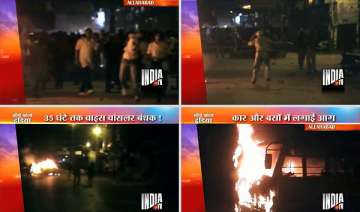 PTI
April 27, 2012 11:47 IST
Allahabad, Apr 27:
The University of Allahabad has been closed till Monday in the wake of clashes between police and students agitating over the issue of eviction of hostellers that left several persons injured and the premises vandalised.
"In view of the prevailing situation, it has been decided that the University shall remain closed on Friday and Saturday and reopen on Monday", the University's Chief Proctor Mata Amber Tiwari said.
Violence erupted on the campus last night with police using batons and hurling tear shells to quell a group of agitating students who went on a rampage. About 20 students were admitted to nearby hospitals with injuries.
Trouble had been brewing for the last few days following a direction issued by the University authorities to evict those living in the hostels immediately after the exams for the ongoing academic session get over.
Tiwari said the University "will go ahead with its eviction drive in the interest of genuine students who suffer on account of unauthorized occupants".
"All hostellers had been asked to vacate by the end of the academic year 2011-2012. There has been a demand that those preparing for competitive exams be given a couple of months' time so that their preparations do not suffer.
"We will identify the genuine students and may give them some relief but illegal occupants will not be spared at any cost", the Chief Proctor asserted.
He also said, "We are in the process of identifying those who were actively involved in yesterday's violence and arson.  Many of them could be outsiders staying in the hostels illegally. Some of them could be students spoiled by bad company.
"We will not tolerate such indiscipline and will lodge an FIR against the guilty persons besides taking appropriate disciplinary action".
Meanwhile, a huge deployment of police remains in place in the sprawling University premises to prevent any fresh outbreak of violence though no arrests have been made so far in connection with yesterday's violence.
A number of students, including girls, had been staging demonstrations outside the office of the Vice-Chancellor demanding that they be given a few months' time as a number of competitive exams were around the corner and search for a new accommodation would affect their preparations.
However, the University administration had adopted a tough stance and pointed out that the move was essential to rid the hostels of a number of "unauthorised occupants" who had been staying there despite having passed out many years ago.