Almost Entire Family, Followers Of Dera Saccha Sauda, Wiped Out In Haryana Road Accident
Fatehabad, Haryana, Jan 24 : Almost an entire family of nine members, except the head of the family, was wiped out in a road accident here on Monday.  Two brothers, their wives, and all five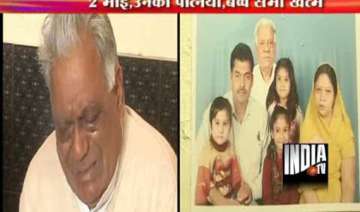 India TV News Desk
January 24, 2012 13:59 IST
Fatehabad, Haryana, Jan 24 : Almost an entire family of nine members, except the head of the family, was wiped out in a road accident here on Monday.
 
Two brothers, their wives, and all five children of both the brothers died in the road mishap. Only the head of the family Narsidas Goel Insaan is alive. 
 
Both the sons of Narsidas, Jitendra, 42 and Surendra, 38, Jitendra's wife Saroj, 38, Surendra's wife Sangeeta, 35,  died in the mishap.
Jitendra's three daughters Simran, 9, Aastha, 5 and Shruti, 3, also died.Surendra's daughter Kashish, 8, and son Aayush, 6, also perished in the mishap.
 
Both the brothers were returning from Dera Sachha Sauda in Sirsa to their home in Fatehabad, when disaster struck.
 
The younger brother Surendra was driving the car. While trying to overtake a truck, the car collided into another truck coming from the opposite direction.
 
Local residents tried their best to pull out the family members from the car wreckage, but it took more than an hour. All nine members died on the spot.
 
Narsidas Goel Insaan is a devout follower of Dera Saccha Sauda, and was made a member of the 25-member committe of the dera.
 
Says a weeping Narsidas: " Had my son Surendra listened to my advice, this  mishap would not have happened.  I asked him to return a day earlier, but Surendra insisted on staying the night at the dera and return in the morning. "
 
The local school remained closed to mourn the death of five school children. The funeral of the entire family took place on Monday evening.