Alstom's Delhi Metro corruption trial to begin in May 2016
London: The corruption trial involving the UK arm of French engineering firm Alstom SA and two of its former executives accused of bribing Delhi Metro officials will begin in May 2016.Alstom Network UK, Robert Hallett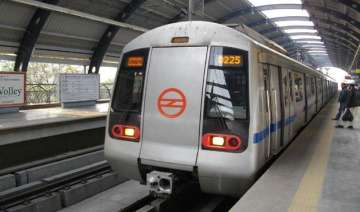 PTI
January 28, 2015 21:27 IST
London: The corruption trial involving the UK arm of French engineering firm Alstom SA and two of its former executives accused of bribing Delhi Metro officials will begin in May 2016.
Alstom Network UK, Robert Hallett and Graham Hill are faced with charges of corrupt payments to officials in India, Poland and Tunisia to acquire transport contracts.
The UK's Serious Fraud Office (SFO) had sought to join all three cases at a preliminary hearing at Southwark Crown Court in London today.
"The joining of Hill's case to that of Hallett's and Alstom Network's was approved. A trial date for Alstom Network UK, Hallett and Hill has been set for 23/05/2016," the SFO confirmed in a statement.
No trial date has yet been set for a related phase of the case which involves Alstom Power and two other accused—John Venskus and Nicholas Reynolds.
A court hearing on April 20 will determine the form those hearings will take later in the year.
The charges stem from the SFO's six-year-old bribery investigation into the French firm.
It accuses the industrial conglomerate of paying bribes to officials totalling more than 6 million euro to secure transport contracts in New Delhi, Tunis and Warsaw via sham consultancy agreements.
Hill, a former director of Alstom SA, had earlier this month became the latest company official to be charged with four counts of corruption and conspiring to dishonestly obtain services in relation to transportation contracts in India and Poland, according to court documents.
Two of them relate to the Hill corruptly giving or agreeing to give payments to an official or officials or other agents of the Delhi Metro Rail Corporation Limited: "The sum of INR 19,895,000 disguised as payments in respect of a Consultancy Agreement with Indo European Ventures Pte Ltd dated 12th September 2001.
"And the sum of 3,131,600 euros disguised as a payment in respect of a Consultancy Agreement with Global King Technology Ltd dated May 3, 2002 as inducements or rewards for showing favour to the Alstom Group in relation to the award or performance of a contract with the said Delhi Metro Rail Corporation Ltd for a Train Control, Signalling and Telecommunications System for the Delhi Metro Phase 1."
In October 2014, Hallett- Alstom Transport India's former managing director - had emerged as the first person to face charges in connection with the worldwide SFO bribery probe.
According to court documents, the SFO accuses Hallett of paying the Delhi Metro Rail Corporation 3.1 million euros and Rs 19.9 million (257,000 euros) "as inducements or rewards for showing favour to the Alstomgroup in relation to the award or performance of a contract."
The individuals at Delhi Metro have not been named in the court documents. Both Hallett and Hill are currently on bail and deny any wrongdoing.