Over 34,000 pilgrims pay obeisance at Amarnath
Jammu: Over 34,000 pilgrims have paid obeisance at Amarnath shrine in south Kashmir Himalayas at the end of fourth day of pilgrimage today."A total of 34,635 pilgrims have had the 'darshan' of the ice lingam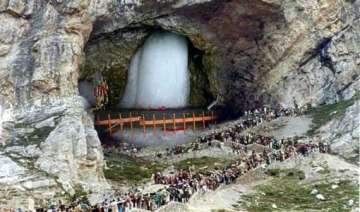 PTI
June 30, 2014 23:33 IST
Jammu:
Over 34,000 pilgrims have paid obeisance at Amarnath shrine in south Kashmir Himalayas at the end of fourth day of pilgrimage today.
"A total of 34,635 pilgrims have had the 'darshan' of the ice lingam at the Amarnath shrine till this evening," an official spokesman said.
The number of pilgrims paying obeisance at the shrine has been steadily increasing with the commencement of yatra on June 28 from Baltal route.
Today, 14,635 pilgrims paid obeisance, the spokesman said.